Looking for somewhere to celebrate Chinese New Year in 2020? We've got you covered! From Singapore to Seoul, these cities are a riot of colour and fun for the Lunar New Year, which is the year of the Rat and falls from 25th January to 11th February.
While many people in Asia look for a relaxing escape for the holiday, the major cities all have fantastic festivals. And – as you'll see from our list – other cities across the world also have plenty of events taking place.
Best Cities To Celebrate Chinese New Year 2020
One of the best places to ring in the New Year is Beijing, where you'll find lots of activities for Spring Festival, or the Chinese Lunar New Year. Visit Longtan Park, which is beautifully decorated with lanterns and flowers to see folk performances, firecrackers, food stalls and more.
For 16 days from January 24th to February 9th, the city will erupt with colour and excitement as some of Melbourne's most treasured landmarks host spectacular events. Expect pop-up stalls with delicious Chinese foods to try, traditional shadow puppet workshops, Lion dances and light shows.
To get into the heart of all the action in Singapore, make your way to the historic Chinatown. The official light-up on opening ceremony January 4th is a must-see. Expect to be enchanted by lion dances, nightly street shows and vendors selling an assortment of snacks and traditional goodies.
Think:  Buttery pineapple tarts, rich prune lapis (layered cake), crisp love letters (rolled egg biscuits), and melt-in-your-mouth kueh bangkit (coconut cookies).
Celebrate the Year of the Rat in London, with the biggest Chinese New Year celebrations outside Asia.
Every year, hundreds of thousands of people descend on the West End to enjoy a colourful parade, free stage performances and traditional Chinese food, and to wish each other "Xin Nian Kuai Le" (Happy New Year in Mandarin) or "San Nin Faai Lok" (in Cantonese).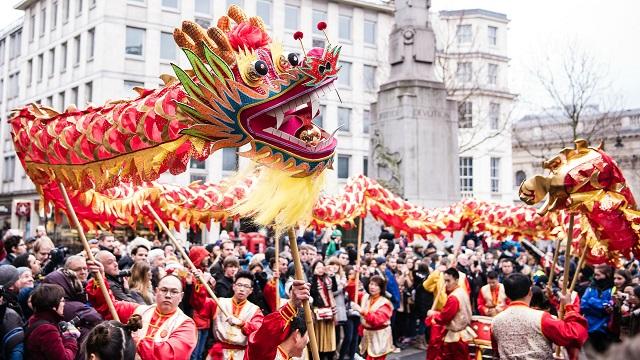 Chinese New Year is by far the city's biggest and most colourful festival, with plenty to see and do. West Kowloon Cultural District Art Park transformed into a four-day fun-filled carnival with dazzling performances and festive food. For a uniquely Hong Kong way to celebrate, hit up Sha Tin Racecourse for the New Year's race.
The Taipei Chinese New Year Street Bazaar will take place between January 10th – January 25th, with nine districts in the city celebrating the festival with special events. Feast on tasty treats on Dihua Street, and be sure to stop by the riverside Hsintien district to set off lucky lanterns.
P.S. Foreign visitors showing their passport at the information desk at any of Taipei's 11 visitor information centres will receive a free red envelope with prosperity money!
Celebrate Chinese New Year 2020 in NYC, for costumed lion dances, dragon processions, red envelopes (ideally filled with money), traditional foods and paying your respects to the gods. Check out the Lunar New Year parade through Chinatown on February 9th in Manhattan, to see dragons, floats and a hail of red and gold.
Download our report on