It's no secret that the food in Spain is spectacular, but how much do you know about the food of the Canary Islands? The Canary Islands are made up of Tenerife, Gran Canaria and Lanzarote, with Canarian dishes combining traditional Spanish recipes with African and Latin-American influences. There's lots of seafood, meats and local cheeses to enjoy.
You might not be able to travel there right now, but we wanted to highlight some of the best recipes from the region. These recipes come from the very best food bloggers in the world, so make sure to bookmark their sites.
Best Canarian Dishes
Is there any dish more representative of the Canary Islands than papas arrugadas? These tiny wrinkled potatoes are a must try when visiting the Canaries! Pair these delicious potatoes with the most famous sauces from the Canary Islands, the mojos. Mojo picón is red and slightly spicy, while mojo verde is refreshing and bright green.
Recipe is by Spanish Sabores.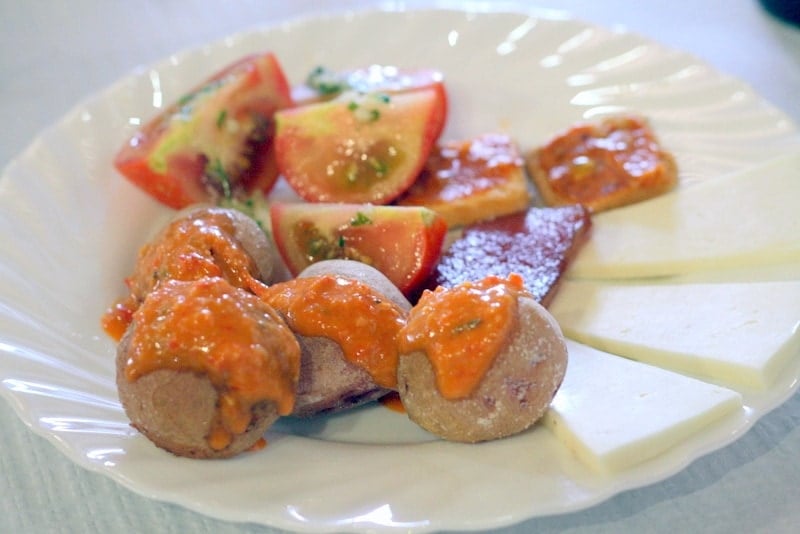 Ropa Vieja is often mistakenly assumed to have originated from Cuba but actually hails from the Canary Islands. Cuba's national dish uses beef, with onion, peppers and tomatoes. Olive and capers are added and the stew is served with yellow rice which has been tinted with annatto. The Canary Islands doesn't just use beef but pork and chicken as well.
Recipe is by Greedy Gourmet.
Gofio is one of the main food staples in the Canary Islands. This toasted grain flour can be used in a diversity of ways, in both sweet and savoury dishes. This dish consists of a fine Gofio puré served with various toppings and chopped onions on the sides to use them as a spoon.
Recipe is by Teide at Night.
Spanish Almond Cream, called bienmesabe, is made of ground almonds, sugar syrup, cinnamon, and lemon zest. Bienmesabe is an ancient dessert of Arabic origin and still very popular in the Canary Islands.
Recipe is by The Spruce Eats.
Almogrote is a delicious cheese paste that is a speciality of La Gomera in the Canary Islands. It traditionally uses Queso de la Gomera, an unpasteurised goats' cheese, which may be difficult to source outside of the Canaries. You can use regular goat's cheese instead for this tasty dip.
Recipe is by Spain Buddy.
This delicious dish is prepared with some pieces of marinated meat with garlic, salt, pepper, oregano, paprika, vinegar and white wine. It's perfect for dinner with family and friends and is easy to make.
Recipe is by La Palmera Rosa.
This is a typical Canarian coffee that combines milk, coffee, cinnamon, liqueur and lemon for a four-layered coffee with a zesty kick. A simpler version of this coffee is called café leche leche – coffee with hot milk and condensed milk.
Recipe is by My Spanish Blog Spot.