Far-flung travel is out of the question right now, but luckily there's nothing quite like a good old fashioned road trip. Whether just for an afternoon or for a few weeks, there's just something about loading up the car and hitting the road. America is famous for its legendary routes and scenic roads, so we've rounded up the 50 most scenic road trips in the US.
Looking at the best road trips in each state, we took into consideration input from our social audience, Instagram hashtags and our editorial team to find the most scenic drives. From fall foliage in New England to turquoise ocean drives along the coast, these road trips will inspire you to travel a little closer to home this year.
Winding along the Sheyenne River in the southeastern corner of North Dakota, the Sheyenne River Valley National Scenic Byway passes by rolling hills, pretty farmlands, small towns and historic sites. Starting north of Valley City and heading south to Kathryn, Fort Ransom and Lisbon you will learn about the history, culture, wildlife, archaeology and geology of the region.
Distance: 63 miles
Route highlights: Sheyenne River; Kathryn; Valley City; Fort Ransom State Park
When to do it: Year-round
Venture off the beaten path on this scenic byway traveling through Harrison, Shelby, Audubon and Guthrie Counties, including 14 rural towns. It's a perfect route for a scenic journey along Iowa's landscapes of rolling hills, working farmsteads, and tranquil small town life.
Distance: 142 miles
Route highlights: Whiterock Conservancy, Harrison County Historical Village, Guthrie County Historical Village, Danish Windmill
When to do it: Spring and Summer
This byway follows in footsteps of the famous explorers, Meriwether Lewis and William Clark embarked on a journey in 1804 that would take them along what is now the eastern border of Nebraska. You'll see where the expedition unfurled the flag of the United States for the first time west of the Rocky Mountains, as well as spectacular views of the Lemhi Pass, Salmon River, Rocky and Lost River mountain ranges.
Distance: 131 miles
Route highlights: Winnebago Indian Reservation, Fort Atkinson, Boyer Chute National Wildlife
When to do it: Summer
Crossing through a number of scenic and historic southeastern Indiana countries, the Whitewater Canal Scenic Byway bridges the distance between the Ohio River and the historic National Road. Close out your journey in Richmond's Historic Depot District, home to art, shopping and delicious dining!
Distance: 76 miles
Route highlights: Little Cedar Grove Baptist Church, Duck Creek Aqueduct, Whitewater Memorial State Park, Historic Elmhurst House, The Canal House, Historic Richmond Depot District
When to do it: Summer
The River Road National Scenic Byway travels westward from Lake Huron into the Huron-Manistee National Forests, with the road itself running parallel to the historic Riviere aux Sable (River of Sand). There's plenty of outdoor activities to enjoy along the route, as well as lush forest and breathtaking vistas from the many scenic overlooks.
Distance: 24 Miles
Route highlights: Hiking, wildlife viewing and camping
When to do it: Year-round, but you can also cross-country ski in the winter months along the route.
The Glade Top Trail is Missouri's only National Forest Scenic Byway, set in the heart of Mark Twain National Forest. It's little changed from the original road constructed by the Civilian Conservation Corps in the late 1930's. For 23 miles, the two-lane, all weather gravel road follows narrow ridge tops rising approximately 500 feet above the surrounding rolling countryside.
Distance: 23 miles
Route highlights: Hercules Glades Wilderness Area, Mark Twain National Forest
When to do it: Spring-Fall
Sunflower Fields in Lindsborg can be found northwest of town on Wheatridge Road and northeast at the I-35 and Highway 4 intersection. Make an afternoon outing in the car enchanting with brilliant yellow – there's no better place to witness its brilliance than a field of sunflowers in late August through September.
Distance: 5 miles
Route highlights: Lindsborg sunflowers
When to do it: Late August through September.
Take your time driving through peaceful glades, valley and marshlands, finally emerging from thick forest areas for find the shore of Maryland's largest freshwater lake. Four seasons of outdoor activities — including hiking, skiing, fishing and boating — are available for anyone wishing to explore the Western Maryland countryside, as well as cute mountain towns along the route.
Distance: 90 miles
Route highlights: Western mountains of Maryland, Oakland, Lonaconing
When to do it: Year-round
This charming route connects the Nobel Prize-winning Faulkner's birthplace in New Albany with Oxford, where he spent much of his life. The scenic byway will give you a taste of the north Mississippi Hill County which figured prominently in much of Faulkner's work. In fact, parts of the rural route includes scenes that have changed very little from many of Faulkner's settings!
Distance: 15 miles
Route highlights: Tanglefoot Trail, the Puskus Lake Recreational Area, and the Little Tallahatchie River.
When to do it: Year-round
Red Clay Valley Byway takes you on a relaxing drive with spectacular views of wooded hillsides and scenic vistas including the Ashland Covered Bridge, Mt. Cuba Center and the Auburn Heights Preserve. It takes about an hour to drive, although you might want to spend longer stopping off along the way.
Distance: 27 miles
Route highlights: Red Clay Ravine Natural Area,  Auburn Heights Preserve and Hockessin
When to do it: Year-round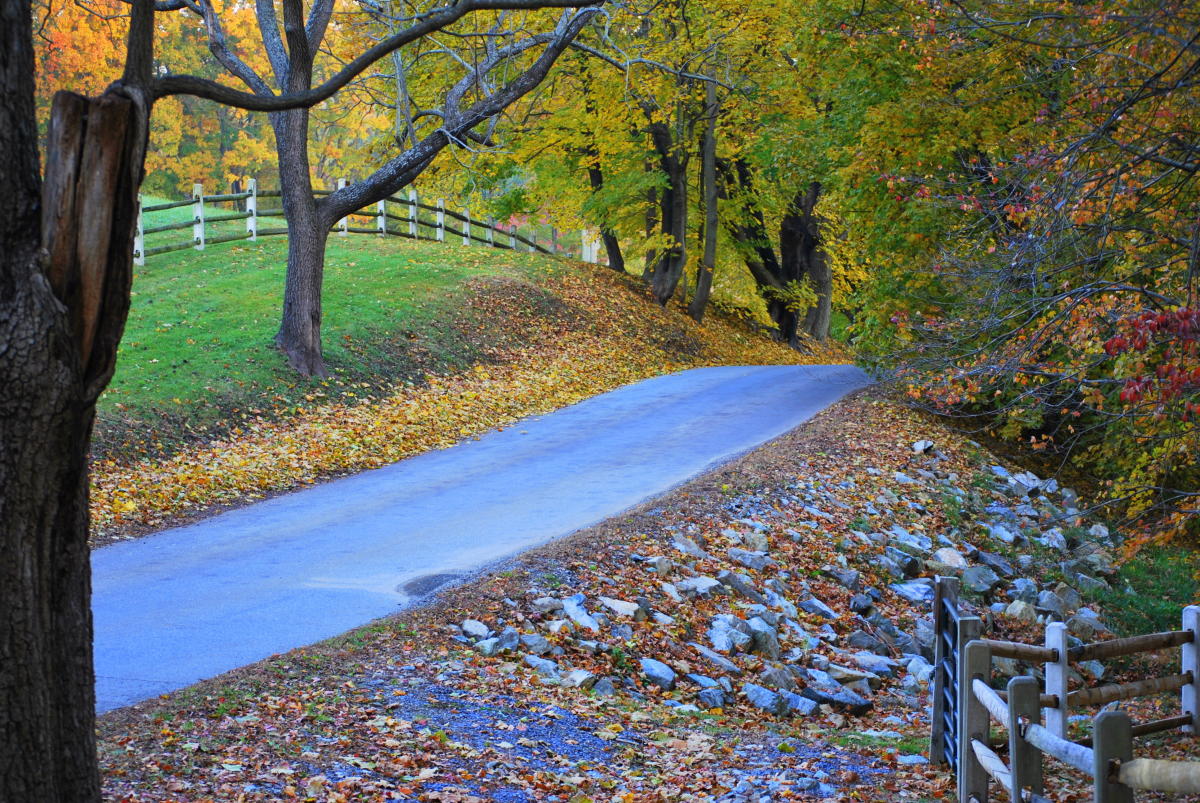 Covered bridges …. Ohio once had more of these than any other state: over 2000 of them! You'll come across four covered bridges on this route. This scenic byway travels across some of Ohio's most beautiful countryside and many visitors choose to stop along its route, to camp and savour the natural beauty of this area – we suggest you do too!
Distance: 66 miles
Route highlights: Rinard Bridge; Woodsfield; Graysville
When to do it: Spring, Summer, and Fall
This pretty shoreline loop route travels through the beautiful towns of Essex, Old Saybrook, Guilford, and Deep River, with stopping points at a marsh wildlife area and an ocean side state park. Be sure to swing by Bishop's Orchards in the fall to pick-your-own apples and pumpkins.
Distance: 35 miles.
Route highlights: Hammonasset Beach State Park; Bishop's Orchards.
When to do it: Year-round, but summer/fall is best.
Image: @mariapaz_gh/Instagram[/caption]
This family fun trip takes visitors along 32-miles of white sand beaches, the Gulf Coast Zoo in Gulf Shores and the Southeast's tallest Ferris wheel in Orange Beach. Alligator Alley is just north from the beaches on Hwy. 59 near Robertsdale and showcases plenty of big gators. When families need a break from the beach they can drive a short distance to Mobile to explore the USS Alabama Battleship and the Gulf Coast Exploreum, a hands-on science museum for adults and kids alike.
Distance: 32 miles.
Route highlights: Gulf State Park; Orange Beach; Battleship USS Alabama.
When to do it: May- September.
This 80-mile scenic tour begins and ends at the Duncan Hines historical marker in front of the structure that Hines built in 1940 as his home/office at 3098 Louisville Road. The drive winds through Warren and Edmonson Counties, past stately homes, incredible vistas and even includes a ferry ride in Mammoth Cave National Park (FERRY
Distance: 80 miles
Route highlights: Smith's Grove, Little Knob Road, and Mammoth Cave National Park.
When to do it: Spring-Fall
For plenty of opportunities to see wildlife including moose, black bear and deer this section of New Hampshire road is a must-see for nature lovers. The route travels near the White Mountain National Forest, so you can expect beautiful scenery. Highlights include Stark, famous for its picture-perfect covered bridge.
Distance: 112 miles
Route highlights: Historic Mill (Berlin), Colebrook, Covered bridge in Stark.
When to do it: Year-round
This pretty route will show you all the best of North Central Arkansas. The picturesque Sylamore Scenic Byway passes through the white oak-hickory forests and shortleaf pines found in the Ozark National Forest. The winding route offers viewing points of limestone cliffs and mountain vistas.
Distance: 26.5 miles.
Route highlights: Blanchard Springs Caverns; Ozark Folk Center State Park; Calico Rock.
When to do it: April – October.
See one of the country's most unique ecosystems on the Pine Barrens Scenic Byway, a 130-mile driving adventure that is divided into three different routes. Along the route are the Edwin B. Forsythe and Cape May National Wildlife Refuges, the Jacques Cousteau National Estuarine Research Reserve, 10 State Wildlife Areas, three State Parks, five county parks and more.
Distance: 130 miles
Route highlights: Edwin B. Forsythe, Cape May National Wildlife Refuges, Bass River State Forest, Batsto Village in Wharton State Forest.
When to do it: Spring-Fall
View some of the best mountain scenery in the world from this National Scenic Byway through the Cherokee and Nantahala national forests. Drive along the the Tellico River, stop at overlooks to take in expansive views of the Tennessee Valley and waves of mountain peaks, hike to high elevation mountain summits or nearby Joyce Kilmer Memorial Forest.
Distance: 52 miles (starting in Tellico Plains, TN)
Route highlights: Great Smoky Mountains; Cherokee National Forest; Nantahala National Forest; Joyce Kilmer Memorial Forest.
When to do it: Spring, Summer, and Fall
This beautiful road follows US Highway 259 for 23 miles between Page, Oklahoma and Octavia, Oklahoma. The drive crosses the tops of the Ouachita Mountains and cuts through the 26,445-acre Winding Stair Mountain National Recreation Area, with breathtaking views of the mountain slopes as you drive.
Distance: 28 miles
Route highlights: Winding Stair Mountain National Recreation Area, Holson Valley, Ouachita National Recreation.
When to do it: Fall, Spring, Summer
It only takes about one hour to drive the loop of South Dakota Highway 240 between the towns of Cactus Flat and Wall without stopping, but almost no one does that. This loop passes through the most amazing buttes, cliffs and multi-coloured spires of Badlands National Park. Stop at any (or all!) of the 16 designated scenic overlooks that for amazing photo opportunities.
Distance: 55 miles.
Route highlights: Badlands Loop Scenic Byway; Badlands National Park.
When to do it: April – November.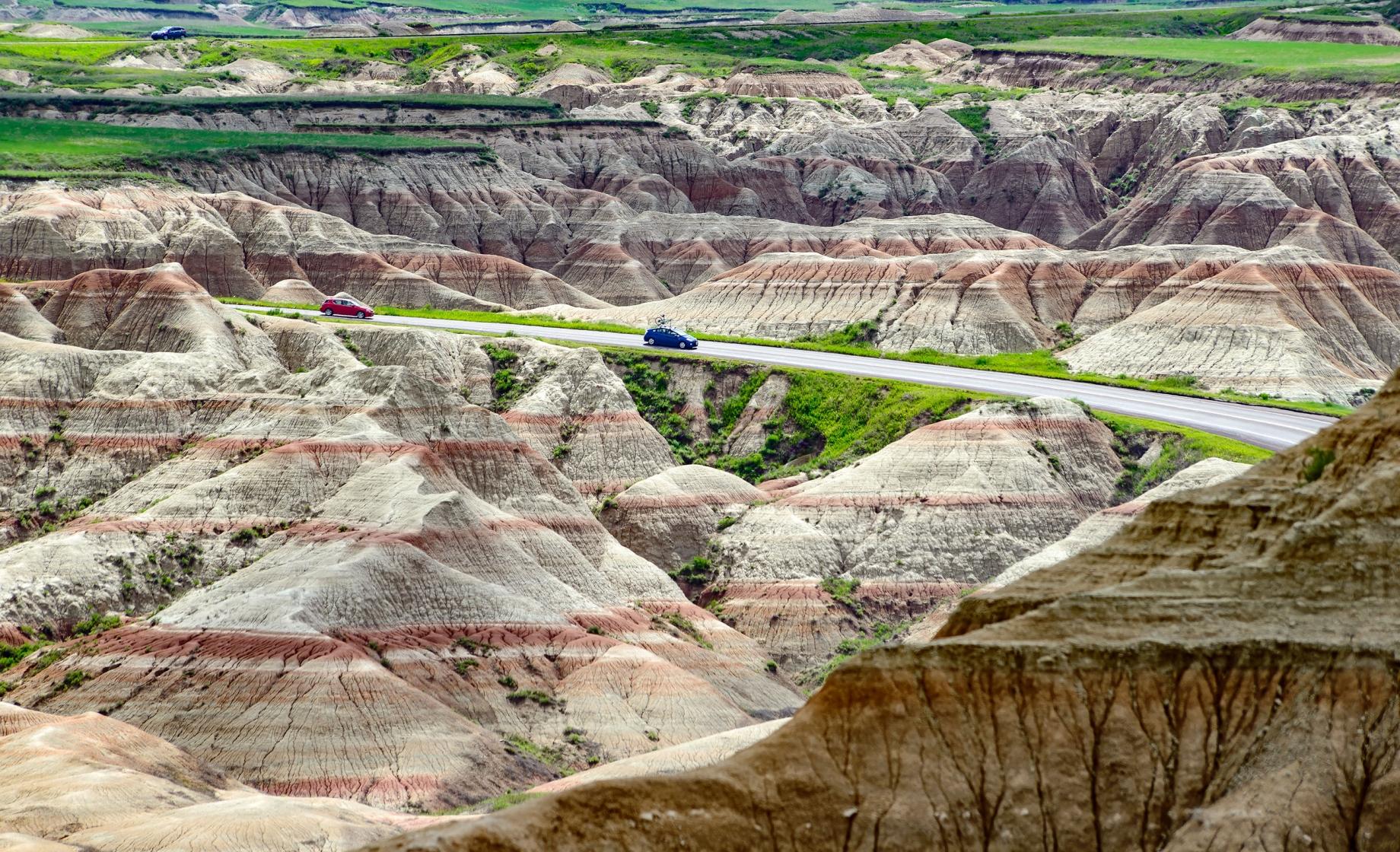 Want to see some of the most vibrant fall foliage in Wisconsin? Even locals make the trek to the northernmost tip of the peninsula, just past Gills Rock, to see the famous "Curvy Road," that winds through the colourful trees. The road is one of the most frequently photographed stretches in Wisconsin.
Distance: 15 miles.
Route highlights: Fall foliage; Newport State Park in Ellison Bay; ferry to
When to do it: October.
Mirror Lake Scenic Byway starts in the southwest Wyoming town of Evanston and travels south along Wyoming Highway 150. The byway then crosses into Utah, winding through the Uinta-Wasatch-Cache National Forest before ending in Kamas. Travellers can take in views of the beautiful Uinta Mountains along the drive's Wyoming section.
Distance: 78 miles.
Route highlights: Bald Mountain Pass; Bear River; Evanstown.
When to do it: April – November.
Enjoy the view of the rugged coastline and the rocky beaches as you drive along this coastal route towards one of the prettiest National Parks in the US. About halfway between Portland and Acadia, stop for a short break in Camden, Maine. The charming harbour town has some nice restaurants and boutiques as well as breathtaking views.
Distance: 155 miles.
Route highlights: Curtis Island Light; Acadia National Park; Bar Harbor.
When to do it: Year-round but May – September is best.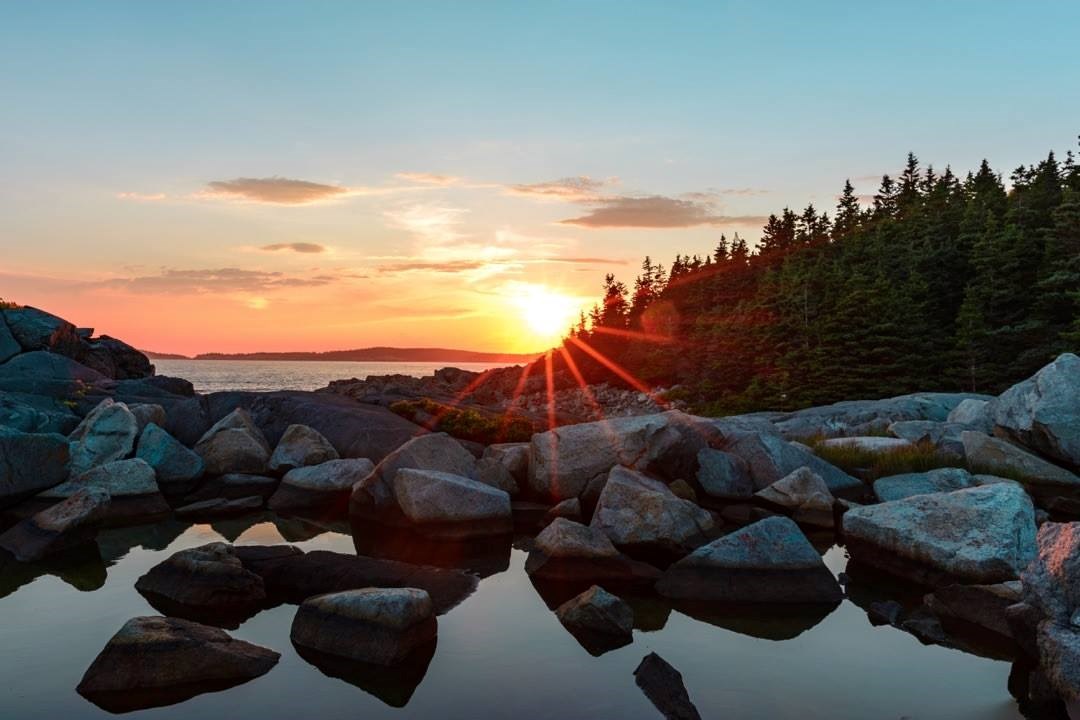 Take a drive on this 52-mile route through the Catskills and absorb the beautiful mountain scenery, waterways, and farmlands. This unique Catskills route offers mountain scenery, waterways, rolling farmland, and more. Make a stop in the historic hamlet of Pine Hill, home to Belleayre Mountain Ski Center, or take a detour on the Shawangunk Mountains Scenic Byway.
Distance: 52 miles
Route highlights: Big Indian Wilderness, Shandaken Wild Forest.
When to do it: Spring-Fall
Part of Ashley River Historic District, this charming road is thought to be the oldest road in South Carolina still in use today.  A moss-draped live oak tree canopy draped over the 11.5-mile stretch of the Ashley River Road preserves its historic character.
Distance: 11 miles.
Route highlights: Drayton Hall; Magnolia Plantation and Gardens.
When to do it: Spring – summer.
Beginning in Duluth and winding along Lake Superior's rugged North Shore to Grand Portage, this road offers stunning scenery at every turn. Lighthouses, waterfalls, and several state parks are among its many highlights. Small shoreline towns offer restaurants serving local fish and produce as well as unique shops and art galleries.
Distance: 147 miles
Route highlights: Lake Superior; Split Rock Lighthouse; Duluth; Aerial Lift Bridge.
When to do it: Summer, Fall, Spring
At an elevation of 5,046 feet, Newfound Gap is known as the lowest pass through the Great Smoky Mountains. The road passes through a variety of forest ecosystems ranging from cove hardwood, pine-oak, northern hardwood, and spruce fir, similar to forests in New England and eastern Canada. Make sure you bring a jacket for the viewpoints, as temperatures can be 10° F lower up here!
Distance: 33 miles.
Route highlights: Views of Great Smokies; Appalachian Trail.
When to do it: April – November.
The Highland Scenic Highway is a beautiful corridor through Monongahela National Forest. The road rises from an elevation of 2,300 feet to more than 4,500 feet. With no less than four scenic overlooks, you'll find plenty of spectacular places to stop and enjoy the view of the Allegheny Mountains.
Distance: 43 miles
Route highlights: Falls of Hills Creek; Allegheny Mountains.
When to do it: Year-round, but May – October is best.
This byway ties together Sierra County's many charming rural villages (including many old mining towns), winding its way through rugged, carved canyons, thickly wooded mountain passes, and ghost towns to the nation's first declared wilderness.
Distance: 149 miles
Route highlights: Black Range Mountains, Caballo Lake State Park, The Hot Springs in the town of Truth or Consequences.
When to do it: Year-round
Salmon River Scenic Byway follows the Salmon River through the Salmon-Challis National Forest; the river and its forks serve as important natural pathways into Idaho's rugged back country. Keep an eye out for the deer, elk and moose that often graze along the hills and meadows.
Distance: 161.7 miles
Route highlights: Sacajawea Interpretive Center, Lewis and Clark National Historic Trail, Salmon-Challis and Sawtooth National Forests and natural hot springs.
When to do it: Best weather for travel is April to November, although access to the backcountry is best from July to October.
Winding its way along the mighty Mississippi, the Louisiana Great River Road spans hundreds of miles and centuries of history. From music festivals to antebellum plantations like Oak Alley, Houmas House, and Evergreen Plantation to name a few, this route offers a glimpse into this unique area of Louisiana. Plus, there's plenty of Creole and Cajun restaurants to stop off at along the way!
Distance: 773 miles
Route highlights: Tallulah, Vidalia, Ferriday, Natchez, St. Francisville, Baton Rouge, New Orleans
When to do it: Year-round
This scenic drive loops around the Stowe's village before traveling up Mountain Road – where you'll have plenty of chances to stop, shop or grab a snack on the way to to Edson Hill. This drive will take you through farmland in the northwest corner of Stowe. Maple trees lining the road as you start up Edson hill and down West Hill are at their most beautiful in fall.
Distance: 10.9 miles.
Route highlights: Wiessner Woods; Cady Hill Forest.
When to do it: October.
Hells Canyon Scenic Byway offers breathtaking views of the canyon while winding its way along the east side of the massive rift that separates Idaho from neighbouring Oregon. Towering cliffs of black and green basalt hang high above the Snake River and its sandy beaches. Plan ahead – you'll find stretches of more than 80 miles without gas and with few services!
Distance: 208 miles.
Route highlights: Elgin; Joseph; Hell's Canyon Overlook.
When to do it: June – October.
The Apache Trail's famous Circle Route begins and ends in Apache Junction, Arizona. This scenic route will take you through deserts, mountains, by cliff dwellings, along lake shores, through old mining towns and through beautifully eroded canyons. This popular route has been used by tourists since 1922.
Distance: 120 miles
Route highlights: Lost Dutchman State Park, Goldfield Ghost Town, Canyon Lake and Theodore Roosevelt Dam.
When to do it: Year-round, but it's best in summer!
This jaw-dropping road spans the width of Glacier National Park, crossing the Continental Divide at 6,646-foot-high Logan Pass. It passes through almost every type of terrain in the park, from large glacial lakes and cedar forests in the lower valleys to windswept alpine tundra on top of the pass, with plenty of photo ops.
The road is well worth traveling in either direction, as the view from one side of the road is much different than from the other!
Distance: 50 miles
Route highlights: Logan Pass, Glaciers, Valleys and Waterfalls
When to do it: Due to the mountainous terrain of the highway, it is only open seasonally. Opening and closing dates depend on the weather.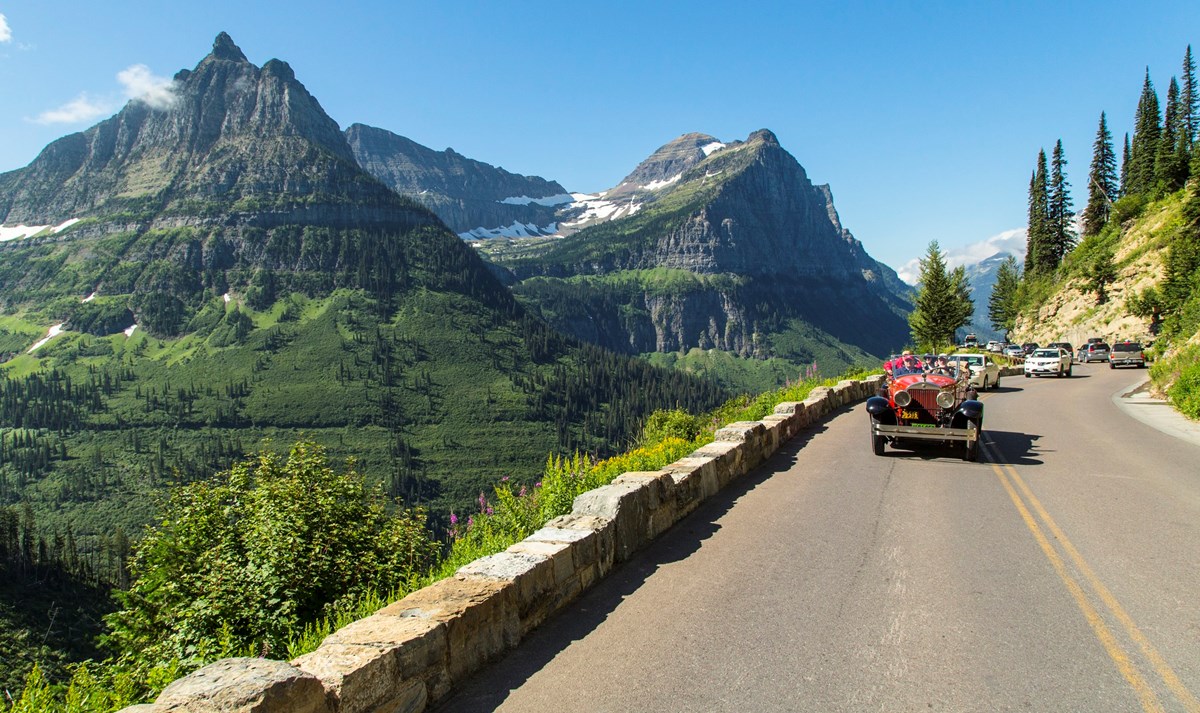 135 miles of Alaskan wilderness make up this incredible scenic journey. Denali Highway is home to all the Alaskan gems like wildlife, glacial lakes, thick forests and the rugged mountainside. Be sure take note of the over 900 archaeological sites that are home to the Tangle Lakes which you will pass through.
Distance: 135 miles.
Route highlights: Iditarod Trail Sled Dog Museum; Denali National Park and Preserve.
When to do it: April-October (Denali Highway is closed in winter).
It's technically not a 'loop', more like a jumble of connecting roads, but this route is heaven for outdoorsy folk. With more than 40,000 acres in Georgia and Tennessee (where its known as Big Frog Wilderness Area), the Cohuttas comprise the largest wilderness east of the Mississippi. You can see more info here.
Distance: 87 miles
Route highlights:  Mercier Orchard, Watson Gap, Dyer Gap, Jacks River Fields, Three Forks Mountain, Mountaintown Creek Overlook, Chestnut Lead Trail

When to do it: Spring & Summer
This famous drive loops around the Newport island's rugged Atlantic Ocean coast, passing by historic mansions built between 1865-1914. The real highlight stopping point for Ocean Drive is Brenton Point State Park. Located perfectly at the south end of the island, it faces out into Rhode Island Sound and the Atlantic Ocean.
Distance: 10 miles.
Route highlights: Newport Mansions; Fort Adams; Brenton Point State Park; Gooseberry Beach.
When to do it: Summer.
Valley of Fire State Park is known for red sandstone formations, which illuminate the valley, making it look like it's on fire. This byway is just under 11 miles and connects both the east and west entrances of Valley of Fire state park. Just after sunset and just after sunrise, when the rocks are particularly luminous, are the best times to see how the park got its name.
Distance: 10 miles
Route highlights: Elephant Rock Vista, Seven Sisters Vista, Petroglyph Canyon Trail
When to do it: Year-round
This Instagram-famous road looks like the grand opening to Jurassic Park. The palm tree-fringed entrance to the park is one of the most scenic drives in the US. Other road trippin' highlights in Oahu include Nuuanu Pali Lookout, one of Oahu's most popular scenic spots, with panoramic views of the Windward Coast and the Koolau Mountains.
Distance: 1.5 miles
Route highlights:  Ho'omaluhia Botanical Garden
When to do it: Year-round.
There isn't a road as historic or as memorable in the U.S. as Route 66. You'll begin your legendary journey in the heart of downtown Chicago at the very start of Route 66 before you begin your 300-mile descent down the Mother Road. Expect plenty of kitsch, nostalgic eats, and quirky museums. It celebrates contemporary America with ghost towns, old diners, quirky landmarks and seriously stunning landscapes.
Distance: 301 miles
Route highlights:  Downtown Pontiac, Route 66 Arcade Museum, Old State Capitol, Route 66 Twin Drive-In movie theater, and Chain of Rocks Bridge.
When to do it: Year-round
Whether you begin your journey at Estes Park or Grand Lake, Trail Ridge Road travellers climb some 4,000 feet in a matter of minutes! There are numerous trails, short hikes and scenic pull-off spots. The entire trip crosses about 50 miles of spectacular Rocky Mountain scenery.
Distance:  48 miles
Route highlights: Views of the Rockies from every direction, Estes Park and Grand Lake
When to do it: June to September
This never-ending stretch of road leads to the breathtaking Guadalupe Mountains. On the Lonesome Highway, you'll see very few cars but plenty of gorgeous candy coloured skies and wide-open Texas plains. To get there, travel west on Highway 285 until it intersects with Highway 180.
Distance: 59 miles.
Route highlights: Guadalupe Mountains.
When to do it: Year-round.
Skyline Drive connects to the northernmost section of the Parkway, but the full route is also a must-drive. The Blue Ridge Parkway makes its way through the heart of Virginia's Blue Ridge Mountains. This scenic drive winds along the Blue Ridge Mountains and offers visitors the opportunity to enjoy some of the best mountain views in the world.
Distance: 217 miles.
Route highlights: Meadows of Dan; Patrick County; Shenandoah National Park.
When to do it: Year-round.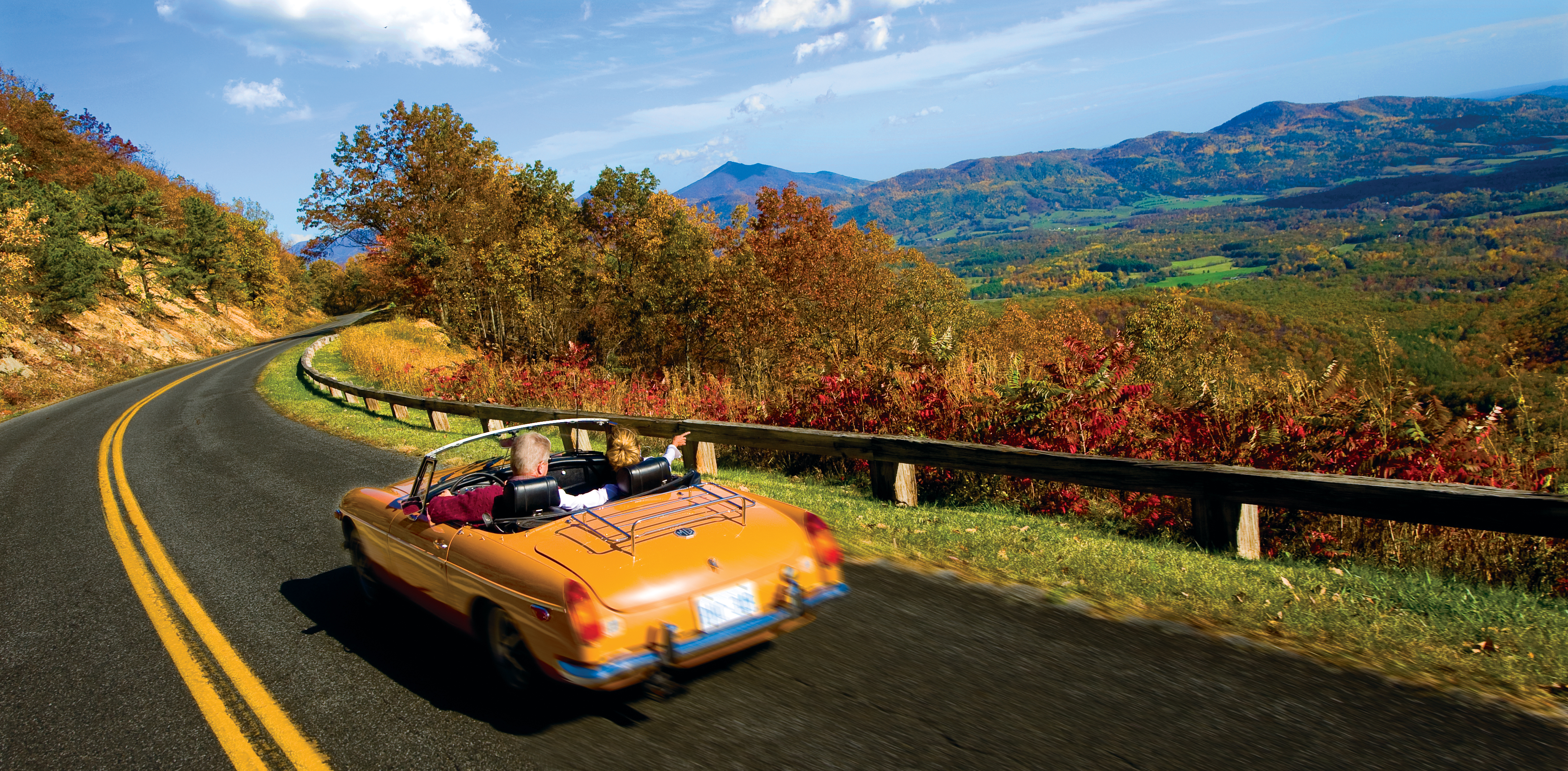 Ask anyone and they'll tell you that that the North Cascades Highway is the most scenic drive in Washington State. As the road loops (with hairpin turns!) between massive peaks and along lakes colored turquoise by glacial silt, you'll see why these mountains are called "the American Alps."
Distance: 140 miles.
Route highlights: Cascadian Farm Roadside Stand; Washington Pass Overlook; Winthrop; Twisp.
When to do it: May – October ( it closes during winter months.)
US Route 6 in Pennsylvania is perfect for touring by car, motorcycle, motorhome or camper. You'll experience history and heritage, small towns, and wondrous sights along this 427-mile route. Fall here is magical, with colourful foliage in the 19 state parks, six state forests, and the Allegheny National Forest along the way.
Distance: 427 miles.
Route highlights: Pine Creek Gorge; Kinzua Viaduct.
When to do it: Year-round.
Want a fall foliage road trip? Hop in the car and take in the beautiful autumn landscape in Central Mass on this beautiful drive. The scenic byway of Route 122 is a 40 mile rural route running north and south from Paxton to Orange. The route connects forests and rivers for plenty of hiking, wildlife watching, boating, and biking opportunities.
Distance: 57 miles
Route highlights: Quabbin Reservoir, Gilbertville (covered bridge), Hamilton Orchards
When to do it: Fall
Highway 12 is one of the most scenic highways in America. It winds through canyons, red rock cliffs, pine and aspen forests, alpine mountains, national parks, state parks, a national monument, and quaint rural towns. On your drive you'll discover the vast Grand Staircase–Escalante National Monument and the beauty of Boulder Mountain.
Distance: 119 miles.
Route highlights: Henry Mountains; Grand Staircase–Escalante; Capitol Reef National Park.
When to do it: Year-round.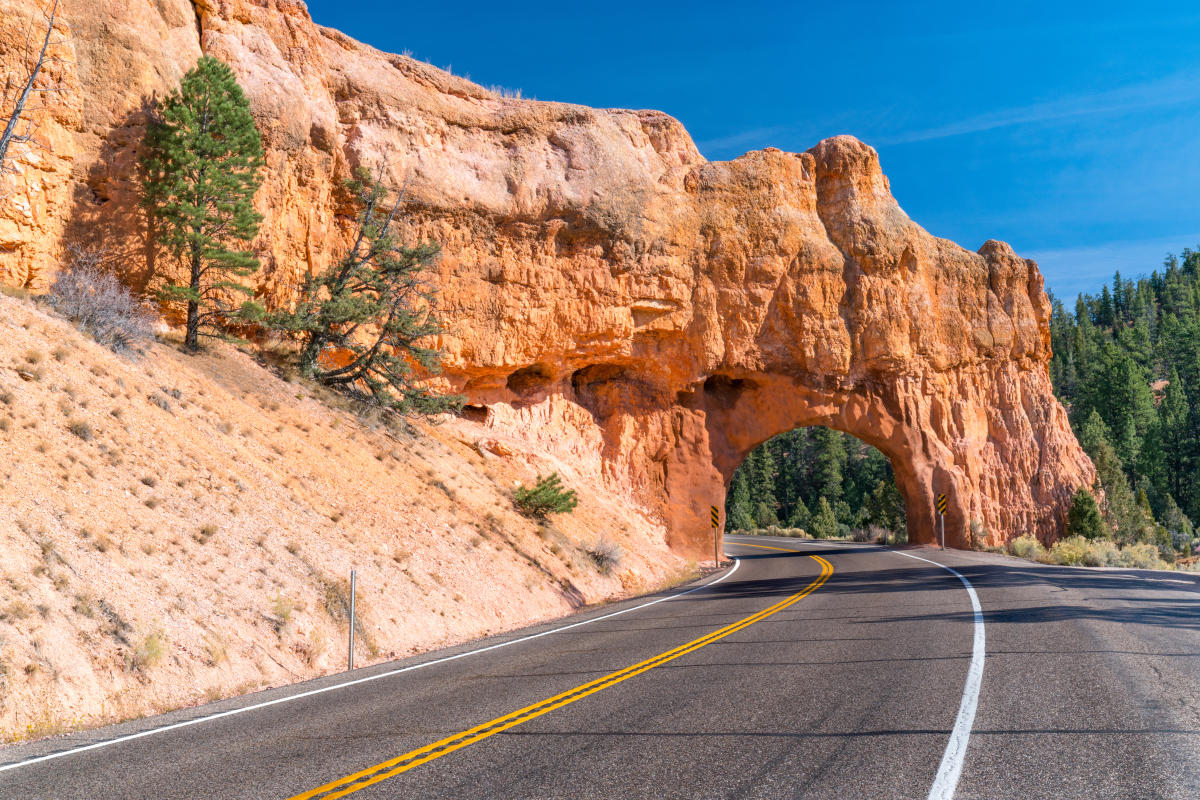 This iconic California drive is perfect year-round and known for its dramatic cliffsides and postcard worthy views over Big Sur. On this positively gorgeous route, you'll pass through Cali's best such as Carmel, Monterey, Santa Cruz, Malibu and so much more.
Visit charming Carmel-by-the-Sea (one of the cutest towns in the state!), before cruising down the 17-mile drive and watching the sunset at Lone Cypress.
125 miles of US Route 1 runs over turquoise blue waters through the Florida Keys. This epic road links all of the keys together, making it perfect for island hopping and getting to know the Florida Caribbean better. Load up the car and hit one of the most unique and scenic roads in the United States that's been called a "magic carpet" as it connects one gem of an island after another…
Distance: 159 miles
Route highlights: Marathon Key, Seven Mile Bridge, Key Lime Pie Company
When to do it: Year-round