Most people think of the city but there are some incredible New York road trips that meander around this breathtakingly beautiful state. Indeed this is an ideal state to visit to blend both city life and escaping to the wilderness.
As soon as you head upstate you will find mountains, lakes, forests and national parks that rival anything else in the country. These drives really highlight the natural beauty and seclusion that this part of the world has to offer.
Take a short road trip for a day or rent a cabin along the route and make a long weekend out of your trip. You will quickly discover that New York road trips are truly special.
The Best New York Road Trips
1. Lakes to Locks Passage
Midway between Manhattan and Montreal the Lakes to Locks Passage Scenic Byway provides access to charming cities, rural landscapes, recreational areas, and Adirondack villages.
This Byway follows the interconnected waterway of the Upper Hudson River, Champlain Canal, Lake George, Lake Champlain, Richelieu River, and Chambly Canal through six counties in New York State: Rensselaer, Saratoga, Washington, Warren, Essex, and Clinton.
Distance: 173 miles
Route highlights: Green Mountains; Saratoga National Park; Keeseville
When to do it: Spring, Summer, and Fall
Photo Cred: the_brentwood
2. Long Island's North Shore
Cruise alongside world-renowned beaches, historical lighthouses, culinary delights, premiere golf courses, Gatsby-era Gold Coast mansions, and award-winning vineyards on Long Island's North Shore. The eastern end of the trail winds through Smithtown, Stony Brook Village and Setauket, and is considered the best historically preserved portion of Route 25A.
Distance: 39 miles
Route highlights: Sunken Meadow State Park; Eatons Neck; Sea Cliff
When to do it: Year-round
Photo Cred: crnphoto
3. Catskill Mountains Scenic Byway
Take a drive on this 52-mile route through the Catskills and absorb the beautiful mountain scenery, waterways, and farmlands. This unique Catskills route offers mountain scenery, waterways, rolling farmland, and more. Make a stop in the historic hamlet of Pine Hill, home to Belleayre Mountain Ski Center, or take a detour on the Shawangunk Mountains Scenic Byway.
Distance: 52 miles
Route highlights:Big Indian Wilderness, Shandaken Wild Forest.
When to do it: Spring-Fall
Photo Cred: catskill_mountains
4. Cayuga Lake Loop
This beautiful route  is an 87-mile loop surrounding Cayuga Lake. The route features scenic views of the lake and its shores, rural and woodland landscapes and numerous historic, natural, and cultural attractions. Admire the glacial-formed Cayuga Lake landscape, visit local wineries and farms and explore the region's villages and hamlets.
Distance: 87 miles
Route highlights: Finger Lakes (Cayuga Lake); Taughannock Falls State Park.
When to do it: Spring, Summer
Photo Cred: sorendophotography
5. The Revolutionary Trail
The Revolutionary Trail runs through the Southern Adirondack North Country Region, between the state capital of Albany and the shores of Lake Ontario in Port Ontario. This 158-mile jaunt features a variety of historic cities, scenic valleys, and woodlands.
Distance: 158 miles
Route highlights: Utica; Palatine Bridge; Oriskany.
When to do it: Spring-Fall
6. Mohawk Towpath Scenic Byway
Visit New York's historic canal system on this fun drive and see the locks and bridges that made canal transport possible for almost two centuries. The route might be short, but there's plenty of stops along the Mohawk Towpath Byway where you will discover local communities and the role they played in the Industrial Revolution.
Distance: 21 miles
Route highlights: Schenectady; Proctor's Theatre; Cohoes Falls
When to do it: Spring
Photo Cred: james_mcclenaghan_
7. The Mountain Cloves Scenic Byway
Wind your way through the Northern Catskill Mountains on these picturesque roads that brought centuries of artists, authors, and visitors to this romantic landscape. Enjoy natural wonders along the route, such as Kaaterskill Falls, the highest cascading waterfall in New York State, or visit Hunter Mountain, which has the longest, highest, and fastest zip line canopy tour in North America!
Distance: 41 miles
Route highlights: Kaaterskill Falls; Hunter Mountain.
When to do it: Spring-Fall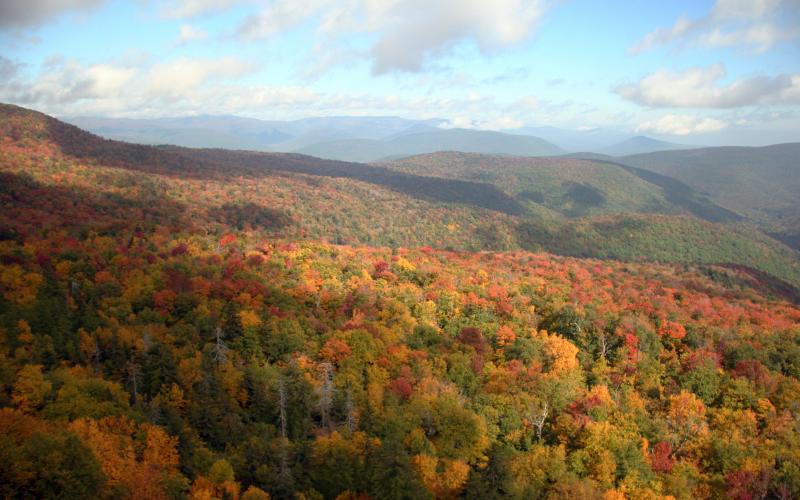 If you are spending time in the state check out The 25 Best Burgers In Upstate New York.