From North to South, East to West, there's endless picturesque and charming villages in England. Quaint cobblestone streets with thatch cottages, seaside fishing villages and famous filming locations make up the list, with each place boasting its own unique charm…
Charming Villages in England
1. Rye, East Sussex
Just a two hour train journey from London St. Pancras International, Rye is a must-visit village for a rural getaway. The hilltop town's meandering cobblestone streets and timbered houses with terracotta roofs is idyllic. You can browse antique bookstores, sip on local brews in one of the snug pubs or climb to St Mary's church tower for views of the village below.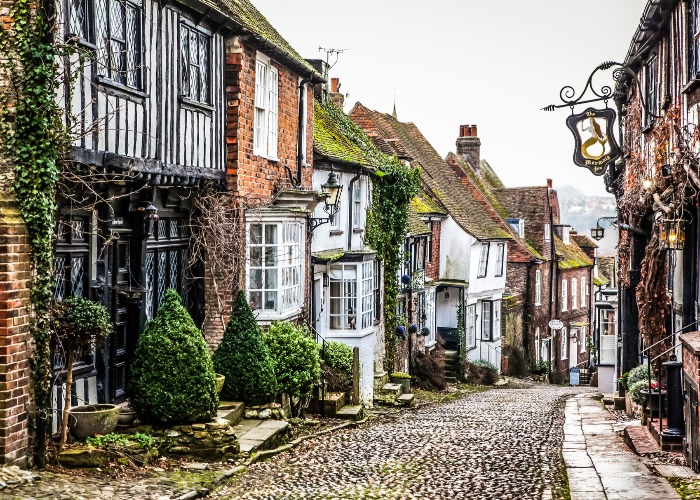 2. Castle Combe, Cotswolds
The Cotswolds is home to plenty of the most charming small towns in the UK. Castle Combe is particularly pretty. The houses here use the honey coloured Cotswold stone, typical for a village of this area. With fairytale feels, valley views and a river, it has it all.
3. Polperro, Cornwall
Polperro is a shining jewel on the Cornish coast, with sparkling blue waters at the fishing harbour and old-fashioned houses covered in flowers. The village was notorious for smuggling activities during the 18th and early 19th centuries, and there's an excellent local museum all about it. The streets are so small that no cars can pass through, so it's great for strolling.
4. Hawkshead, Cumbria
This ancient medieval village in Cumbria is near the home of famous children's writer Beatrix Potter. In fact, there's a wonderful gallery here with an exhibition of a selection of Beatrix Potter's original drawings and illustrations. Cars are banned from the village, so you can saunter through the cobbled streets at your own leisure, stopping into local tearooms and pubs.
5. Clovelly, Devon
People flock from all over to this postcard-perfect fishing village that clings to a 400ft cliff and has has had no motorised vehicle access since the 1920's on its steep cobbled streets. Privately owned, visitors pay a small fee to wander the streets, admiring white-washed cottages bearing flowers and donkeys carrying food supplies on their way.
6. Lacock, Wiltshire
One of England's oldest villages, Lacock is a firm favourite for film location scouts, with appearances in 'Downton Abbey', the BBC's 'Pride and Prejudice' and 'Cranford', and 'Harry Potter and the Half-Blood Prince'. It looks just as did 200 years ago, with quaint traditional stone cottages, a village church and cute bakeries and teahouses.
Image: Karen Roe/Flickr
7. Bibury, Gloucestershire
Famed 19th-century artist William Morris called Bibury "the most beautiful village in England", and it's hard to disagree. Bibury is probably the most famous place in the Cotswolds; the cottages along Arlington Row are some of England's most photographed houses.
Go fishing in the clear waters of Bibury Trout Farm and dig into freshly baked scones with clotted cream at The Swan.