Boasting characterful neighbourhoods, buzzing nightlife and arguably the most attractive harbour in the entire world, Sydney is a shining example of just good city living can be. Spending 48 hours in Sydney is a dream.
Think: lazing on super-safe beaches and papping the Opera House and Harbour Bridge during the day; soaking up glorious sunset views and hitting lively nightspots after dark.
Here's How to Spend 48 Hours in Sydney:
Day One:
'Do' Sydney Harbour Bridge
With the formalities of checking into your hotel – the super-central Sydney Harbour Marriott – all done and dusted, hit the buzzing streets and make the short walk to the iconic Harbour Bridge. Yes, you can walk across it and yes, you will do that at least twice!
You probably won't have time to do the official bridge climb though so do the next best thing and check out the cool mini-museum and sensational views from the Pylon Lookout. It's at the emblematic structure's southwest corner.
Get up Close to the Opera House
After exploring the historic laneways and traditional pubs of The Rocks, head down past the buskers on Circular Way and take in the majesty of the incomparable Sydney Opera House. Walk around it a few times to fully absorb its striking, frond-like appeal then take five with a flat white coffee at the laid-back Opera Bar.
If you're looking for the perfect Insta snap then walk east along the seawall path into the pretty Royal Botanic Gardens and you'll get a perfectly-framed shot of both the Opera House and Harbour Bridge. Pap at sunset to get the very best results.
Have an Edgy Night out in Kings Cross
Ask any local and they'll tell you nights out in Sydney don't come any livelier than those in 'The Cross', a notoriously seedy area in the city's eastern suburbs. Often described as Sydney's de facto red-light district, this relatively compact area centred around Darlinghurst Road, Victoria Street and Kings Cross Road is awash with strip clubs, sports bars, adult bookshops and bawdy nightclubs.
That being said, there are more trendy cafes and bohemian nightspots around these days so you can always err that way if the vibe gets too full-on. Well worth a look if you enjoy a walk on the wild side…
Day Two:
Hit the Beach
Tuck into a hot brekky at your hotel then walk down to Circular Quay and catch a ferry to scenic Watsons Bay. Once you've filled-up on tip-top views and the city's finest fish and chips, jump on the bus and head for Sydney's most famous beach, Bondi.
Though not as picturesque or laid-back as Manly Beach, this hallowed seaside district has plenty of history and prestige and is diligently patrolled by its esteemed lifeguards. The highly scenic 1.5 hour-long coastal walk from Bondi to Coogee is an absolute belter.
Bursting at the seems with 1,000 stalls in two vast locations at Haymarket and Flemington, historic Paddy's Market is the place to pick up those all-important pressies and knick-knacks. When you're done nosing around the vast assortment of clothes, sporting goods, cosmetics, footwear, fresh produce, CDs, sheepskins and plants; give your tastebuds a workout at one of the many casual hot food stands.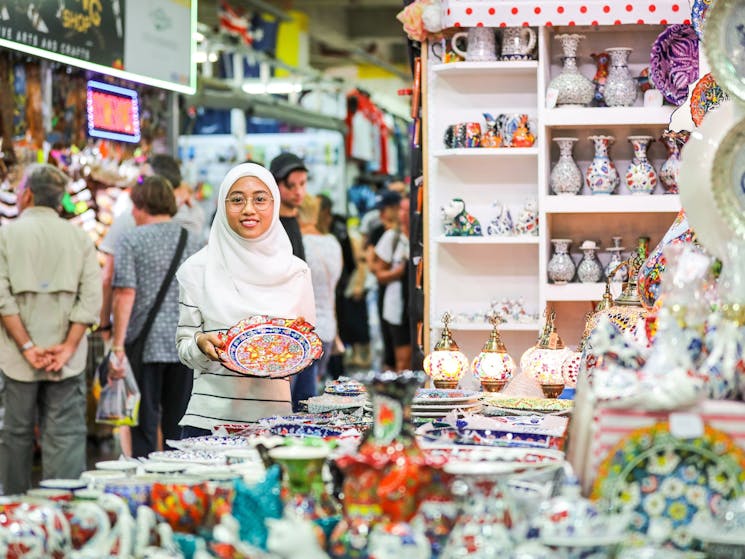 Finish Your Trip With Epic Views and Good Eats
Saving arguably the most epic view of all for last, make your way to the Westfield shopping centre in the city centre and ascend the landmark Sydney Tower. Honestly, the 360° view over the city from the top is so expansive you can even see the Blue Mountains when the weather allows.
Make the short hop to handsome Darling Harbour after and round off your trip with dinner and a drink at one of the area's sleek restaurants. Depending on the day, you may even get a free fireworks display at 9pm!