Travelling around the South? That's Kentucky, Virginia, North Carolina, South Carolina, Tennessee, Arkansas, Georgia, Alabama, Mississippi, Louisiana and the Florida panhandle, FYI. The region is well known for its iconic Southern foods.
Think: fried green tomatoes, mint juleps, peach cobbler, gumbo, soul food, jambalaya, fried chicken, barbecue ribs, iced tea, grits, catfish and soft shell crabs… Head to Texas to enjoy some of the most mouthwatering BBQ in America, or make your way to Louisiana to sample some of the country's finest fritters. Set off on a culinary adventure and be sure to dig into these iconic dishes along the way…
Iconic Southern Foods
1. BBQ
Every state in the South has its own style of barbecue. Pit-style barbecue is covered and slowly cooked for hours over a wood fire until it's tender enough to fall off the bone. Slathered in sauce or dry rubbed, there are plenty of styles to try across the country. Here's the best restaurants to try proper BBQ fare…
2. Fried Chicken
Fried chicken is eaten around the world, but it's been said that the best fried chicken is cooked (and eaten) in the South. Prepare to drool over chicken that is tender and juicy inside, with a well-seasoned and crispy outside.
3. Peaches
Home cooks and chefs around the state use peaches in pies, jams, jellies, ice cream, and of course, peach cobbler. Georgia is known as 'The Peach State', so be sure to try some of the finest peach desserts there.
4. Gumbo
You'll find this tasty dish in New Orleans, Louisiana. With a heritage claiming both French and West African roots, gumbo is a thick stew served over rice and made with a roux (a mixture of butter and flour) and a wide variety of ingredients such as celery, peppers, okra, onions chicken, sausage and/or seafood.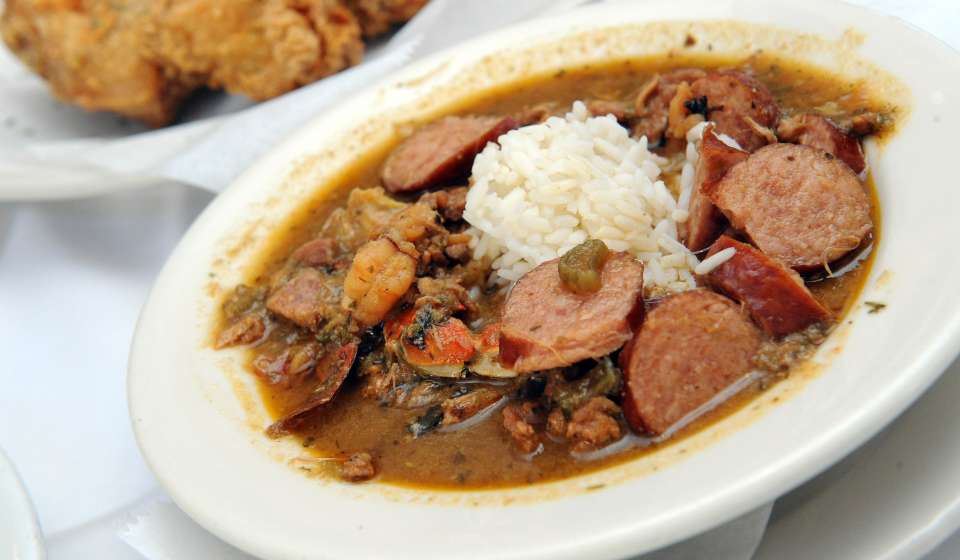 5. Shrimp and Grits
This is one of the most famous dishes in the South, popular for any time of the day. Grits are prepared using ground corn or hominy, and in the south they're often served with shrimp, cheese, or at the very least, butter.
6. Biscuits
This Southern staple is a must-eat, with plenty of different and innovative toppings to find. Choose savoury such as crispy chicken, rich gravy or thick-cut bacon, with sweet toppings like jam or honey.
7. Pimento Cheese
You can't call yourself a true lover of Southern cuisine unless you've tried pimento cheese spread! This roasted red pepper and cheese spread is delicious as a dip for crackers, chips and veggies, spread on toast points or biscuits, and also for deviled eggs.