Kerala, a state in the south of India, is well known for its incredible cuisine. Keralan dishes tend to feature a lot of coconut, rice and seafood, as well as plenty of vegetarian dishes. Historically known as the spice capital, usage of spices such as nutmeg, clove, cinnamon, black pepper, tamarind, and ginger is still common in the cuisine today.
Want to try make some of these dishes at home? The recipes below are from some of the world's top food bloggers. They've taken some of the classics and put their own unique stamp on the dishes! Make sure you bookmark the blogs and check out their other recipes as they are all superb.
Time to invite some friends or family over and to get busy in the kitchen cooking up a feast…
Best Keralan Dishes
This is a popular staple dish in Kerala: idiyappam is a sort of noodle made of rice flour, salt and water. It is usually served with a variety of side dishes like peas curry, vegetable kurma, chicken stew, egg or chicken curry.
Recipe is by Sailu's Food.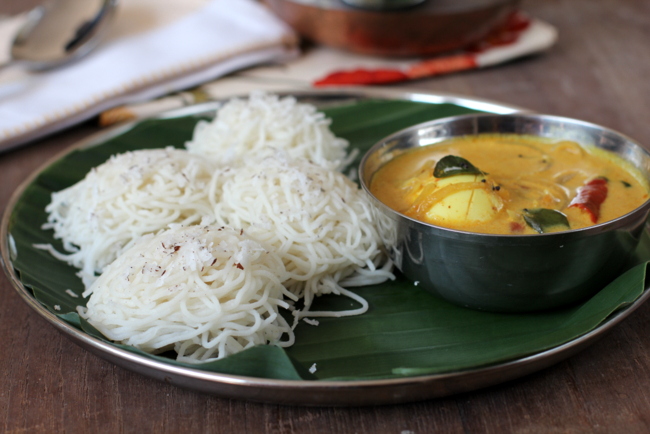 2. Mathanga Erissery
Mathanga Erissery / Mathan Erissery is a traditional recipe that is made for Onam Sadhya (a huge feast in Kerala!). Its made with yellow pumpkin that is spiced with a coconut paste and finished with fried coconut.
Recipe is by Kannamma Cooks.
This is a semi-gravy chicken recipe so there's enough to mop up with your appam and the gravy also has tons of onions. The fiery red colour and the delicious gravy of the chicken curry is delicious.
Recipe is by Cooking and Me.
There are more traditional versions of this stew with poppy seeds and cashews.They are thicker and more time consuming.This version is simpler and has purer flavours. It's heaven to eat this with fresh appams ( (pancake with fermented rice batter and coconut) or even iddiyapams!
Recipe is by Yellow Thyme.
This traditional-style of Kerala fish has fragrant Indian spices, curry leaves and tamarind and can be roasted in the oven or grilled on the BBQ. If you love bold flavours and love fish, this recipe is for you.
Recipe is by Feasting At Home.
Kerala is perhaps the only place in India where you can still eat beef without any inhibitions! Nadan Beef is among the most popular Kerala dishes. The highlight of this recipe is the slow cooking of the meat; you pressure cook it to tender and then roast it in coconut oil with ginger, garlic and spices. When properly blended and turns aromatic, it is topped with fried curry leaves and browned coconut bites.
Recipe is by When a Vagabond Cooks.
This Kerala fish curry is a firm favourite. The use of green chilies and black pepper keeps the heat subtle while the coconut milk makes it creamy and rich, and of course the aroma from the fresh curry leaves takes the whole dish to the next level.
Recipe is by Pepper Delight.
Download our report on