The United Kingdom has no shortage of beautiful places to visit, and its cities are no different. Packed with hip restaurants, cultural events and trendy arts scenes, some of the coolest destinations to visit in the UK in 2020 range from the famous to the up-and-coming.
These are the cities and towns that are on the rise with both local and foreign tourists. Big 7 Travel looked to our social audience of 1.5 million for the destinations across the UK that they're excited to visit in 2020, as well as our editor's picks of a few emerging hotspots. These are the places that might even convince visitors to brave the Brexit borders…
Best UK Destinations To Visit In 2020
Just 1 hour 40 minutes north of London by train lies Nottingham: home to an independent art scene, lively pubs and of course, the legend of Robin Hood. You can explore cosy cafes, restaurants and shops at the city's Lace Market, dive into a Robin Hood adventure tour or simply stroll the the scene Nottingham forest.
Check out the Best Burgers in Nottingham here
24th. Whitstable, Kent
If your idea of the perfect destination is a cute 'n' charming seaside town with some of the best seafood in England, then make a beeline for Whitstable. There's quaint beaches (walk along the 'Street', a natural path on Tankerton Beach at low tide!) and creative stores.
Pay a visit to Royal Native Oyster Stores,  which has great views over the town's picturesque harbour.
23rd. Norfolk
What makes Norfolk one of the hottest UK destinations to visit in 2020? It's an enticing mix of a few things… Norfolk's beautiful coastline stretches on for 90 miles, so there's amazing beaches, and there's wonderful market towns and villages to be found here. To get a real sense of the place, hop on board the North Norfolk Railway.
No trip to Scotland is complete without a visit to the picturesque city of Edinburgh.
With the historic Edinburgh castle looming over the city, culture in spades and wonderfully friendly locals, this is one of the world's greatest city breaks. Edinburgh has the world-acclaimed Hogmanay Festival, an exciting food scene and friendly locals.
Check out the Most Instagrammable Spots in Edinburgh here
The Cotswolds is a rural area in the South of England that takes in six counties and is home to some of the most postcard-perfect landscapes and houses.
With the 102 mile Cotswold Way at its heart, this is a paradise for walkers or people seeking an outdoor holiday. And for those looking for a more leisurely break? Well, the many country pubs with roaring fires in the winter offer a perfect alternative.
Check out the Most Instagrammable Spots in the Cotswolds here
20th. Monach Isles
These remote islands in the Outer Hebrides have beautiful untouched beaches, rocky ledges and endless dunes. Beaches here are wild and rugged, and it's not unusual to have the entire stretch of sand all to yourself.
The region is also a National Nature Reserve and is home to one of the biggest colonies of grey seals in the world. We suggest you take a local cruise boat to make the most of your visit.
York is an old city with beautiful buildings and river cruises that make it a must-visit for many international tourists. The combination of the old city walls alongside the river mixed with gorgeous churches, great walking streets and friendly locals make this a must-visit.
York also happens to be one of the prettiest towns in England.
The Scottish Highlands are a rugged and beautiful area in the North West of Scotland, with Loch Ness at their centre. They are also home to the highest mountain in the UK, Ben Nevis. The area is known for hiking, beautiful scenery and even at times skiing.
Take a sip of golden whisky as you look out over the surface of a deep loch – how good does that sound?
This small Welsh town is famous around the world for its 20+ bookstores, cosy reading nooks and annual literary festival. Basically, the entire town is one beautiful library. Browse the unique second-hand bookshops and other independent stores, or pop along to a local market.
You can also pick up the Wye Valley Walk to the east or west or Offa's Dyke Trail to the north or south.
The Lake District is 912 square miles of some of the prettiest and most scenic countryside in the UK. With its range of mountain climbing for all levels, wonderful trekking and abundance of gorgeous lakes, it is the perfect place to escape the madness of some of the big cities.
15th. Devon
Devon's coast gets more hours of sunshine than anywhere else on the British mainland, earning it the nickname the 'English Riviera'. You can explore two rugged National Parks – Dartmoor and Exmoor – or simply surf on one of the many beautiful beaches along the coast.
Be sure to enjoy award-winning local produce such as Devon cream tea.
Newcastle is a vibrant university city in the north of England, with a diverse nightlife scene, scenic bridges and real Geordie sprit. Once a major hub for shipbuilding, the city is now flying ahead to the future with its offerings of business, science and art.
Plus, the neighbouring city of Gateshead is home to the BALTIC gallery, a must-visit hotspot for modern art lovers.
Check out the Most Instagrammable Spots in Newcastle here
Britain's second-largest city, Birmingham has majestic waterways, lined with history, culture & lifestyle. From a real-life chocolate factory to a vintage clothes festivals, there's heaps of things to do in Birmingham.
Explore the city by canal boat – Birmingham has more miles of canal than Venice – or dig into a Balti curry, the city's signature dish. You'll fall in love with this city in no time.
Check out the Most Instagrammable Spots in Birmingham here
Liverpool has always been an important English maritime city, known all over the world for their football teams and its famous music exports. Where would we all be without The Beatles?! In recent years the city has been coming alive as a great place to travel to for long weekends, with an abundance of great restaurants, cafes and bars.
Check out the Most Instagrammable Spots in Liverpool here
11th. Isle of Wight
This laid-back island is easily reached by ferry from Southampton or Portsmouth, and is loved for its sandy shores, country walks and cosy tearooms. It's also wonderfully scenic. More than half of the landscape on the Isle of Wight is designated an Area of Outstanding Natural Beauty (AONB).
When it comes to the top UK destinations to visit in 2020, be sure to add this to your list.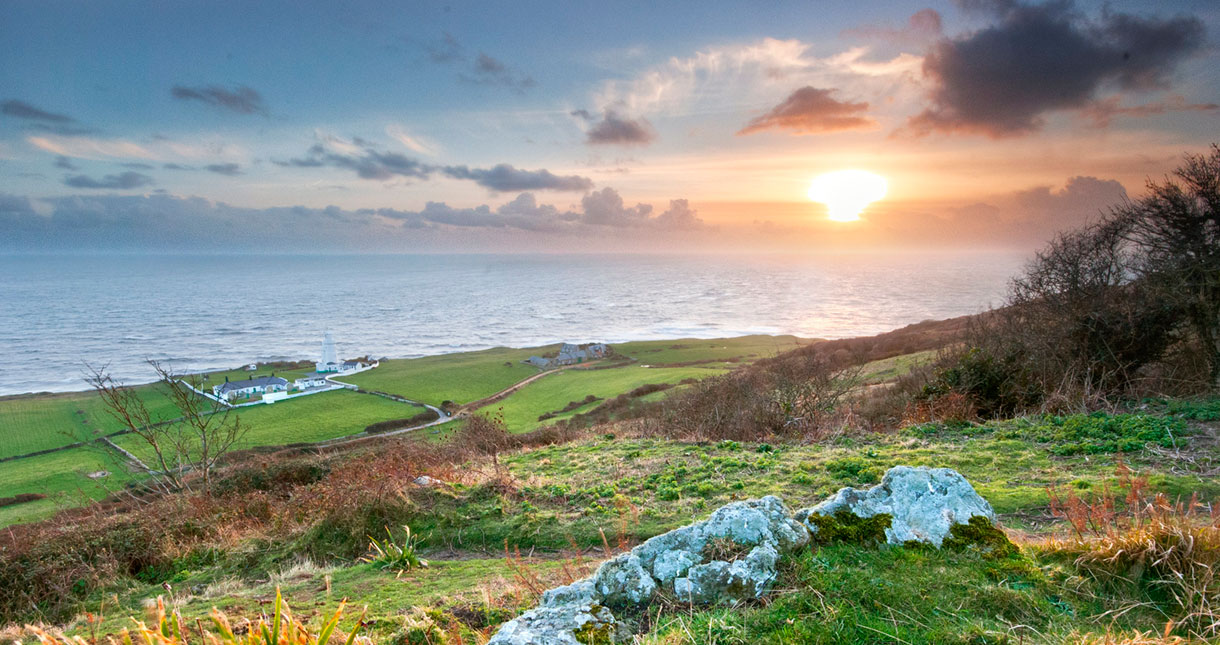 Glasgow is a must-visit city in Scotland that's rich in history and packed full of beautiful Victorian and Art Nouveau architecture. Did you know that the city was built with money from the burgeoning ship building industry in the 18th and 19th centuries?
It's now even more of a wonderful place to visit, with great shops, bars and restaurants. As well as plenty of museums and galleries, it's also a UNESCO City of Music, with a buzzing gig scene.
Check out the Most Instagrammable Spots in Glasgow here
With its art scene, great nightlife and liberal feel, Brighton is a must-visit town which is only 30 minutes from London by train. It has a broad shingle beach which is backed by amusement arcades and which comes alive in the warmer months.
Explore its famous creative shopping area, The Lanes, which are narrow, twisting alleyways filled with independent shops and boutiques.
Check out the Most Instagrammable Spots in Brighton here
Leeds is the perfect place for a fun city break; a vibrant, modern city with an amazing music scene and heaps of culture. Its industrial past gives it an edge, while green city parks and countryside scenery is on its doorstep. The city has some of the coolest restaurants and bars in the UK, as well as a great market.
Check out the Best Burgers in Leeds here
Northern Ireland might be small in size, but it is home to some of the best places in the United Kingdom. With a rugged coastline, sweeping green landscapes and some globally famous landmarks in cities such as Belfast and Derry, it's easily one of the hottest UK destinations for 2020.
Start off in Belfast and drive along the Causeway Coast, stopping off for some Guinness and seafood en route.
Check out the Most Instagrammable Spots in Northern Ireland here
Did you know? Bath has more museums in a square mile than any other English city.  That's just one of its many highlights: the UNESCO World Heritage site is famous for its ancient Roman spa and elegant Georgian architecture. With pretty-as-a-picture streets, hearty restaurants (don't miss out on afternoon tea here!) and the annual Jane Austen Festival in September, Bath has it all.
This is a bustling city that has great restaurants, nightlife and is a great stepping stone for the stunning surrounding areas. The city is hugged by the hills of South West England, and the scenery is an easy cycle from the city centre.
It's also one of the most artistic UK destinations, considering the number of museums, theatres, amount of live music gigs and the quantity of street art.
Check out the Best Burgers in Bristol here
London is one of the most fascinating and diverse cities to visit in England. It's popular for a reason: amazing culture, history, and interesting people all live here and make it incredibly exciting in the many things to do in London. Art galleries, pop-up bars and historical monuments are everywhere.
No list of the best UK destinations to visit in 2020 is complete without this showstopper.
Check out the Most Instagrammable Spots in London here
3rd. Cornwall
Cornwall is without doubt one of the most popular summer destinations in the UK, with people flocking to its coasts for sandy beaches and ready-to-surf waves. Visit Newquay for top surfing and lively nightlife, or take things easy in the picturesque artist's enclave of St Ives.
You won't want to forget your camera for this stunning spot.
2nd. Cambridge
A city best known for its university on a global stage, Cambridge also has gorgeous waterways and great architecture. Spend your time here exploring Cambridge University, which is split into 31 architecturally beautiful colleges. You can then pop into the vibrant market square, or punt lazily down River Cam.
Manchester might already be popular, but it's worth the hype. It has always been an important city in the United Kingdom, with a rich history and strong industrial heritage.
These days, the city is a vibrant and cultural melting pot with amazing sports teams, restaurants and museums. Plus, the food scene in the city has been exploding over the last couple of years. What more could you ask for from a city getaway?
Check out the Most Instagrammable Spots in Manchester here