The food down south is 'peasant cooking': simple and fresh ingredients, full of flavour. Calabria (the boot of Italy!) is one of the best places to eat in the country. Calabrian dishes make use of local spices, fish and seafood, meats and of course, n'duja –  the famous spreadable spicy salami is the shining star of Calabria.
You might not be able to travel there right now, but we wanted to highlight some of the best recipes from the region. These recipes come from the very best food bloggers in the world, so make sure to bookmark their sites.
Grab yourself some good fresh produce and invite some friends or family over. Time to get into the kitchen and to start cooking up some of these classics. The perfect way to test yourself if you are an aspiring home cook!
Traditional Calabrian Dishes
Zeppole calabresi are divine savoury fried donuts, filled with anchovies or sardines and creamy mozzarella. These are a local favourite!
Recipe is by Vincenzo's Plate
This is a classic pasta dish in Calabria. It's homemade wide pasta with chickpeas, garlic and oil.
Recipe is by Zen & Spice.
A quick traditional first course, where the pasta is seasoned with oil , garlic , anchovies and toasted breadcrumbs. The breadcrumbs give a delicious crunch to the silky smooth pasta.
Recipe is by Giallo Zafferano.
Recipe is by Great Italian Chefs.
The vegetables are filled with a simple mixture of bread and cheese, before being smothered in passata and baked until tender.
This delicious meatball recipe sees pork mince mixed with goat's cheese and cooked in a spicy tomato sauce.
Recipe is by Primo Chef.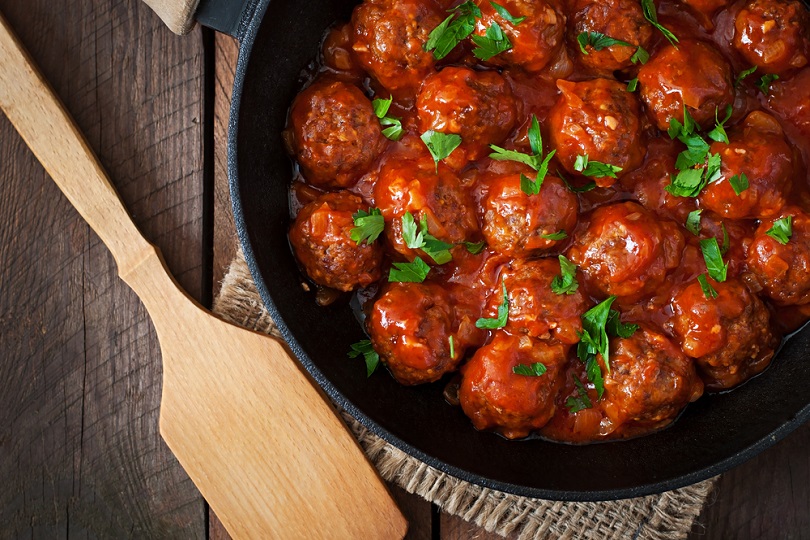 Nduja is a soft, spicy, spreadable salami. Nduja is typically eaten with short pasta such as maccheroni, penne, fusilli etc or spaghetti. In Calabria they usually eat it with fresh or dried fileja pasta.
Recipe is by The Pasta Project.
Tartufo was only invented in the 1950s, but has quickly become the dessert of choice across Calabria. It is a moulded ice cream dessert resembling a giant black truffle, with a cocoa coating concealing two layers of ice cream: a chocolate layer on the outside and hazelnut within. Delicious!
Recipe is by Cookstr.
Download our report on