Barbadian cuisine (also called Bajan cuisine) is famous for its diversity, variety and freshness. Just like other Caribbean cuisines, the food in Barbados is a mix of African, Portuguese, Indian, Irish, Creole and British influences. Local herbs and spices enhance the food, and some of the tastiest Barbadian dishes you'll find are those built around local produce such as fishes of every size, shrimps, lobsters, crabs and sea eggs.
Want to try cook up some of these delicious Barbadian dishes at home? Here's some authentic recipes that will bring the flavours of Barbados to your own kitchen. The best thing about these recipes is they have been created by people who know what they are talking about. They come from some of the world's top bloggers. Make sure you check the rest of the recipes on their sites and bookmark the ones you love…
Best Barbadian Dishes
Barbados is often known as 'The Land of the Flying Fish', so it seems apt that its national dish is flying fish. Cooked in a creole sauce, it is served with another local dish called Cou Cou which is made from fine cornmeal and okra. You can use any white fish for this recipe.
Recipe is by Notes From A Messy Kitchen.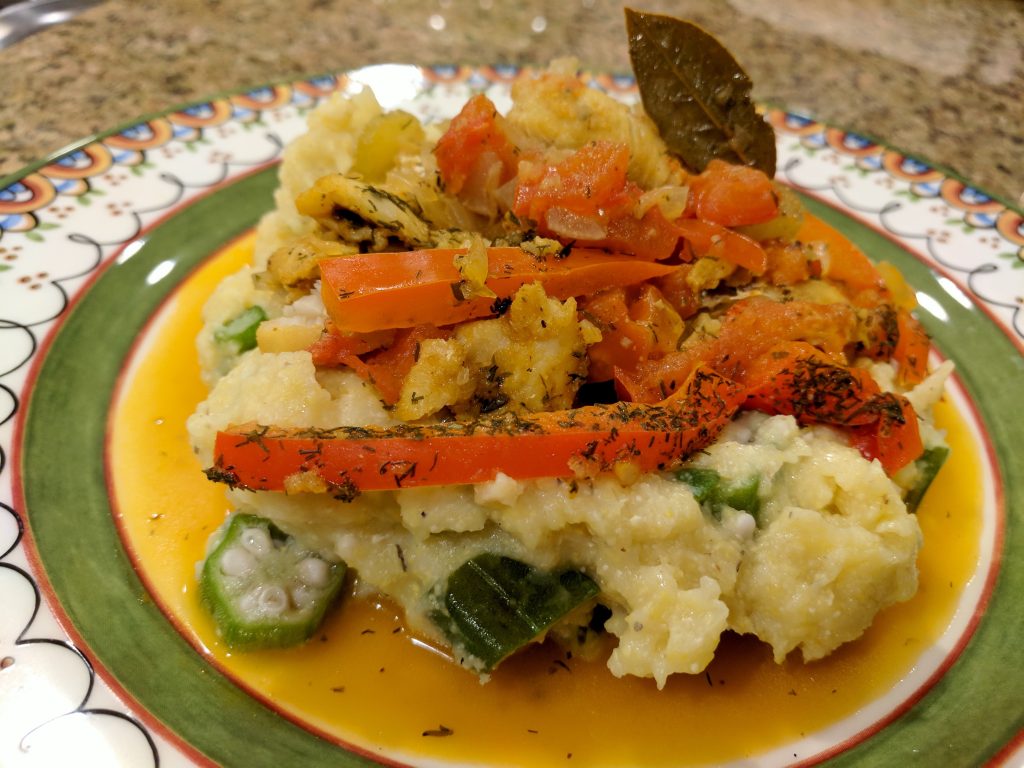 This Macaroni Pie from Barbados is the ultimate comfort food. Barbados has made macaroni and cheese their own by adding evaporated milk, ketchup, and honey mustard to the dish. This baked casserole is creamy, savoury, and slightly sweet, with a perfectly crunchy breadcrumb topping.
Recipe is by The Foreign Fork.
Coconut sweet bread is a Caribbean favorite in countries like Jamaica, Guyana, Trinidad and Barbados. What is so distinctive about this cake (most people call it bread) is the addition of freshly grated coconut to the batter, the aromas from the bitters, almond, nut meg, cinnamon, and all spice.
Recipe is by African Bites.
Pudding and Souse is a traditional Saturday lunch for many Bajans. The souse is essentially pickled pork and the "pudding" is steamed sweet potato. Traditionally souse uses the pig trotters (feet), ear, snout and tongue. Today, many people prefer to use lean pork meat instead.
Recipe is by Lick Da Bowl Food Tours.
Cutters are a type of sandwich in Barbados and this fish version is delicious. Serve with plenty of chilli pepper sauce and share with your friends. The soft bread roll and flaky fish is the perfect flavour combo for a street food snack.
Recipe is by Sorted Food.
When you are in Barbados if you go to any restaurant that lays on a traditional Sunday Bajan buffet, you will find Bajan Pepperpot on the menu. It is a stewed meat dish, flavoured with spices and hot peppers.
Recipe is by Aussie Tastes.
Brown Stew Chicken is a Caribbean classic where chicken is cooked in a browning sauce along with veggies. This delicious stew is best with coconut rice or mashed potatoes on the side. The end result of this combination is soft and tender chicken in a rich brown stew gravy!
Recipe is by Whisk Affair.
Visiting Barbados? Check out the most Instagrammable spots in Barbados here.