The Great Lakes are the dominating factor in this Midwestern state, which makes Michigan road trips truly unique and spectacular. Along with the water never being far away, there are also great forests, National Parks and an abundance of natural beauty to take in on these routes.
There are short road trips which make for an ideal day trip, as well as longer drives that you could build a week-long vacation around. With so much to see and do in the state stopping along the way and taking time to savour it is the ideal approach.
Grab your friends or family and pack up the car to set off on a wonderful adventure driving around this majestic state!
The Best Michigan Road Trips
1. River Road Scenic Byway
The River Road National Scenic Byway travels westward from Lake Huron into the Huron-Manistee National Forests, with the road itself running parallel to the historic Riviere aux Sable (River of Sand). There's plenty of outdoor activities to enjoy along the route, as well as lush forest and breathtaking vistas from the many scenic overlooks.
Distance: 24 Miles
Route highlights: Hiking, wildlife viewing and camping
When to do it: Year-round, but you can also cross-country ski in the winter months along the route.
2. M-22 Peninsula Views
M-22 is a 116-mile stretch of highway that winds along the Lake Michigan shoreline and through the scenic countryside of Manistee, Benzie and Leelanau counties. In the fall, vibrant colours and farm markets line the road of this scenic highway, while summer offers vineyards galore and waterfront towns.
Distance: 116 Miles
Route highlights: You take a canoe trip, stand on the 45th Parallel or have a wine tour.
When to do it: Ideally in the warm summer months and make a 2-3 day trip out of it.
3. Lighthouse Road Trip
Michigan is home to more lighthouses than any other state, so there's no excuse not to see some! Tall and elegant or short and utilitarian, beautifully restored or lying silently forgotten, the dozens of lighthouses standing sentinel along Michigan's 3,200 miles of shoreline are worth a visit. Many of Michigan's lighthouses are open for tours, if only seasonally. Join the coastal road at any stage and stop off along the way.
Distance: Over 3,000 mies of coastline but you can choose to drive just a small part of it.
Route highlights: Over 120 lighthouses standing today, including Crisp Point Lighthouse; Menagerie Island Lighthouse and more.
When to do it: Summer-fall.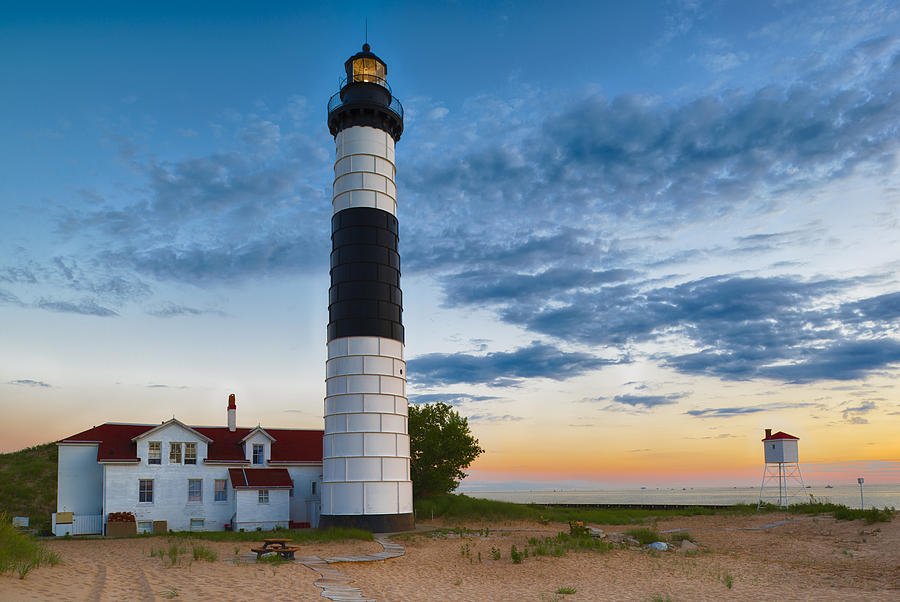 4. Red Arrow Highway – New Buffalo To St. Joseph
This Southwestern Michigan highway will take you through the heart of Harbor Country, an area of quaint towns, rolling countryside and miles of Lake Michigan beaches. Take time to explore Warren Dunes State Park near Sawyer and stop off at Karma Vista Vineyards and Winery. In fall, Michigan's mature hardwoods burst into brilliant reds, yellows and orange.
Distance: 27 Miles
Route highlights: The route hugs the coast and has some stunning views, as well as great places to stop for food along the route.
When to do it: Summer-fall
5. Detroit To Tahquamenon Falls
A drive through the heart of Michigan with a wonderful final destination at a scenic State Park. If you want to get out of the city, this is the perfect trip. The Upper Falls, at 50 feet tall and 200 feet wide, stand alone as Michigan's largest waterfalls, the most interesting and among the most accessible. You can rent a rowboat in the for a better look (and better photos) from the water.
Distance: 369 Miles
Route highlights: Tahquamenon Falls.
When to do it: Summer.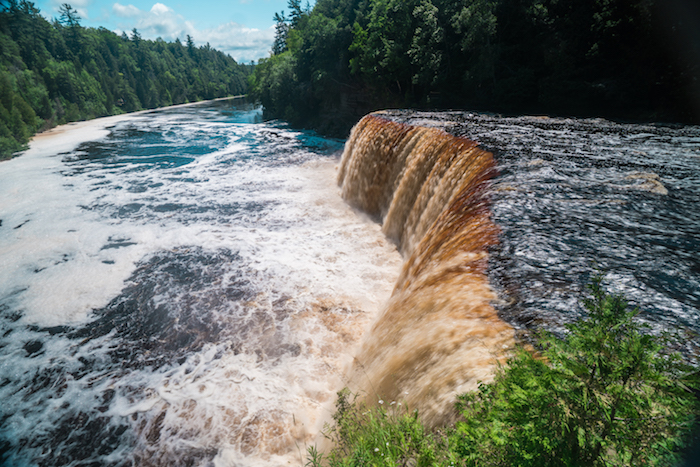 6. Black River National Forest Scenic Byway – CR 513
The Black River National Forest Scenic Byway might be short, it is also sweet and spectacularly so when the area's hardwood trees burst into autumn colour. The byway – which leads from the small town of Bessemer to the Lake Superior shore – is in a remote corner of Michigan and surrounded by one million acres of the Ottawa National Forest.
Distance: 15 Miles
Route highlights: Ottawa National Forest
When to do it: All year-round.
7. M-134 From Hessel To Drummond Island
This 50 mile journey will take you through four communities, (Hessel, Cedarville, DeTour Village, and Drummond Island), and offers thousands of miles of off-road trails, hundreds of acres of land to explore, a ferry boat ride, and dozens of cultural experiences, not to mention miles of shoreline along Lake Huron and the St Mary's River; all from one byway:
Distance: 50 Miles
Route highlights: 
When to do it: Summer
If you are spending time in the state check out The 25 Best Burgers In Michigan.