From Route 66 all the way to The Loneliest Road, the United States is filled with fantastic road trips that have long been alluring travellers out onto the open road. With so many different routes to take, it's near impossible to decide on just one road trip to take. These South Dakota road trips are a great starting point for an adventure with friends.
From scenic loops through the Badlands National Park to drives through deep canyons and wildlife viewing opportunities – so many bison and elk! – South Dakota has it all.
The Best South Dakota Road Trips
1. Wall and Badlands National Park
It only takes about one hour to drive the loop of South Dakota Highway 240 between the towns of Cactus Flat and Wall without stopping, but almost no one does that. This loop passes through the most amazing buttes, cliffs and multi-coloured spires of Badlands National Park. Stop at any (or all!) of the 16 designated scenic overlooks that for amazing photo opportunities.
Distance: 55 miles.
Route highlights: Badlands Loop Scenic Byway; Badlands National Park.
When to do it: April – November.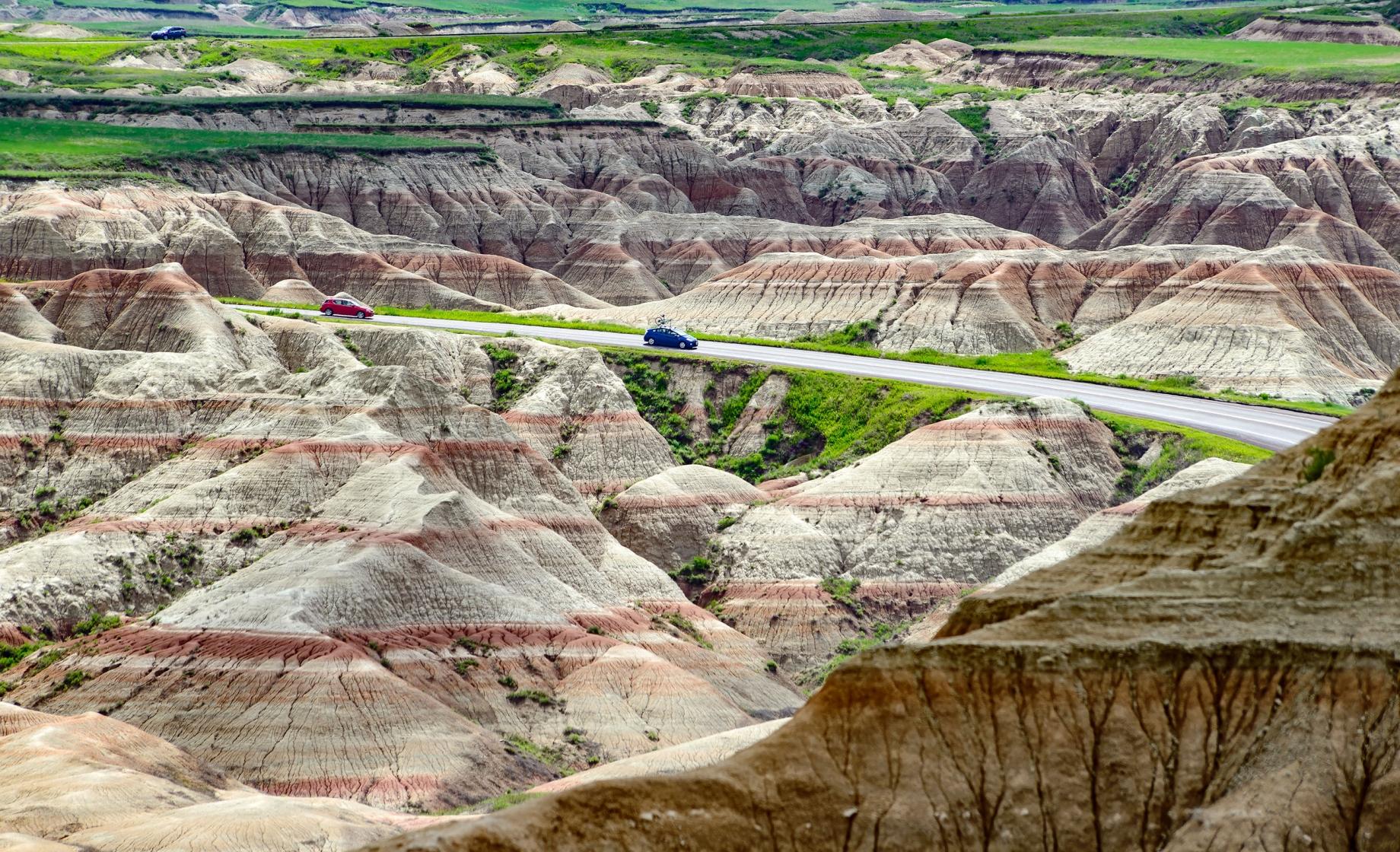 2. Peter Norbeck National Scenic Byway
The winding roads along Norbeck National Scenic Byway in the Black Hills of western South Dakota make for one of the best road trips in the state. This 70-mile byway includes spiralling bridges, hairpin curves, granite tunnels and awe-inspiring views.
Basically a a figure-eight route, the byway travels through sections of Custer State Park, the Norbeck Wildlife Preserve, near Mount Rushmore National Memorial and the Black Elk National Wilderness Area.
Distance: 70 miles.
Route highlights:  Mount Rushmore National Memorial; Black Elk National Wilderness Area.
When to do it: Year-round.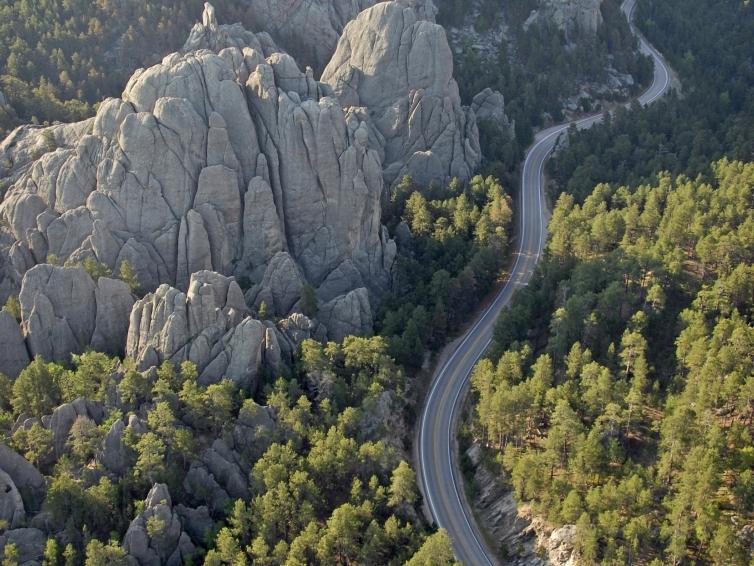 3. Belle Forche to Devils Tower Scenic Drive
Take a spin through Belle Forche, an authentic Western town that's home to one of America's premier rodeos, before driving along a scenic stretch of highway to reach Devil's Tower National Monument.
The Tower is a granite formation that looms 1,267 feet above the tree-lined Belle Fourche River Valley, like a skyscraper in the country! Once hidden below the earth's surface, erosion has stripped away the softer rock layers revealing the Tower.
Distance: 52 miles.
Route highlights: Prairie Dog Town; Devils Tower
When to do it: Year-round.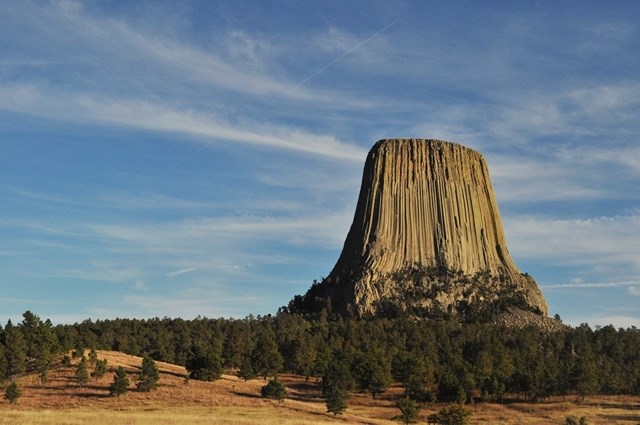 4. Vanocker Canyon Road
This short-but-sweet route is a great way to start the morning from Rapid City before stopping off in Sturgis. Vanocker Cayon is a beautiful 17-mile stretch of road that cuts through the Northern Black Hills.
The bottom section of Vanocker is thrilling, with hairpin turns and quick twists! The canyon then opens up with a view of Sturgis in the distance.
Distance: 17 miles.
Route highlights: Northern Black Hills.
When to do it: April – October.
5. Black Hills Parkway
Also known as US Highway 385, this parkway is the longest road in the Black Hills and passes through several pretty towns. This route provides a scenic alternative to Interstate I-90 from Rapid City to towns like Deadwood, or instead of Highway 16 to Hill City or Custer. Highway 385 will also take you past the breathtaking vistas of Pactola Reservoir and Sheridan Lake.
Distance: 112 miles
Route highlights:  Wind Cave National Park; Pactola Reservoir; Sheridan Lake.
When to do it: May – November.
6. Needles Highway
Just 30 miles south of Rapid City, this road is a thrilling 14 mile stretch that includes sharp turns, narrow tunnels, granite spires and world class views. You'll squeeze through two one-lane tunnels along the way. Needles Highway is one of three scenic routes along Peter Norbeck Scenic Byway.
Distance: 14 miles
Route highlights: Custer State Park.
When to do it: Year-round.
7. Spearfish Canyon Scenic Byway
There's so many beautiful sights on the scenic byway. Spearfish Creek lines the canyon floor while canyon waterfalls make for popular roadside attractions. Bridal Veil Falls and Roughlock Falls are must-sees along the route. The speed limit is 35 miles per hour, but you'll be driving way slower to take it all in!
Distance: 20 miles.
Route highlights: Spearfish Creek; Spearfish Canyon.
When to do it: Summer – Fall.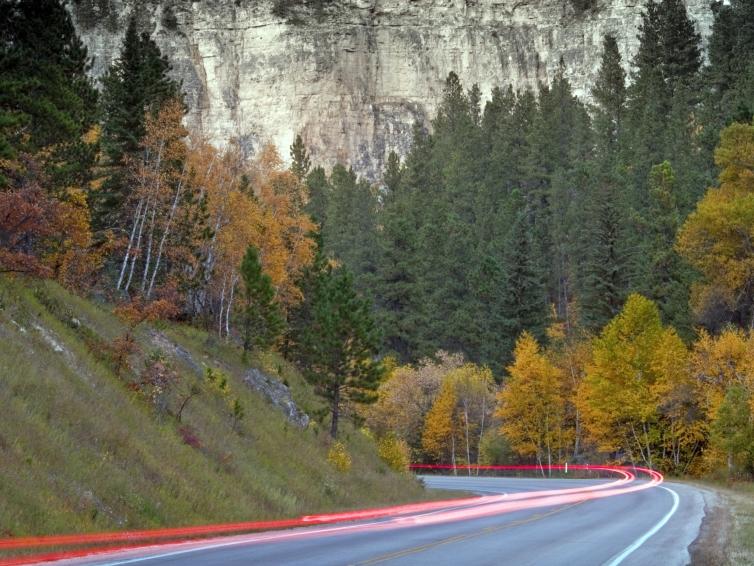 If you are spending time in the state check out The Most Instagrammable Spots In South Dakota.