With sustainable travel on the rise, and Earth Day 2020 (22nd April) approaching, we're highlighting some of the world's best eco-friendly hotels and resorts. From eco-chic rooms to coral reef programmes and farm-to-fork foods, these hotels are paving the way for a new type of travel. People are looking for ways to travel that can have a positive effect on local communities. Long gone are the days of mass tourism.
While it's strange times at the moment, we suggest you bookmark these resorts for your future travels. Do your bit for the earth and bask in luxury while you're at it.
Eco-Friendly Hotels & Resorts
1.
The Maldives' Largest Coral Regeneration Project

 at 

Velaa Private Island

Home to the largest Coral Regeneration Project in the Maldives, Velaa Private Island has successfully transplanted over 4,200 nursery grown corals. In fact, they've increased coral growth around the island by 3% since its plantation just three years ago.

The project aims to raise awareness of the destroyed coral reefs following the severe global bleaching in 1998 and 2016 (which destroyed 60% of the country's reefs). Now, guests can experience first-hand the extraordinary rewards of coral restoration. You'll feel like you're really making a difference by staying here.
These two adults-only beachfront hotels are key for keeping things eco. Already considered as one of the most sustainable hotel companies in Spain, the project will consist of three main objectives:
Conserving natural resources and ecosystems:
Amàre Marbella have recently donated €1,500 to support a project to protect the endangered Andalusian seahorse
Preserving Ibiza's land and sea:
Amàre Ibiza has signed an agreement with Ibiza Preservation. This organisation is dedicated to preserving the conservation of the island's natural beauty and strives towards sustainable tourism.
Eliminating single-use plastics:
Fuerte Hotel Group are developing a plan to eliminate single-use plastics throughout the hotels. They will use eco-friendly alternatives from recyclable, biodegradable materials
This new retreat aims to educate art-lovers on the importance of marine conservation. Dive into the Indian Ocean, where over 250 species of tropical fish, manta rays and turtles patrol the resort's 9km house reef.
Snorkel the vibrant corals before exploring the Coralarium. This is a submerged art installation and coral regeneration project by British eco-artist, Jason deCaires Taylor. Discover the unique sculptures and learn about their role in marine conservation on an underwater art tour with the resident marine biologist. It's perfect for any art or marine lover!
This resort has really embraced the hyper-local and SLOW (sustainable, local, organic, wellness) food movement. So, all food is fresh, local and has minimal carbon footprint on the environment. What more could you need?
All fresh produce across the resort's restaurants has been grown and handpicked on Es Saadi's family-owned, organic farm and orchard, 'Le Bled', in the nearby Ourika Valley in Morocco. It's the best of both worlds here: local food and luxury surroundings.
Think you can't find an eco-friendly hotel in the heart of Bangkok city? The hotel is passionate about protecting its surroundings. Curious about some highlights of its sustainable plan? They include organic produce grown on-site, renewable energy powered lighting, river clean-ups, up-cycling, and carbon-free cooking. What's more, you can only reach the hotel by foot, bike, or boat.
You're sure to enjoy a sustainable break at this beautiful space.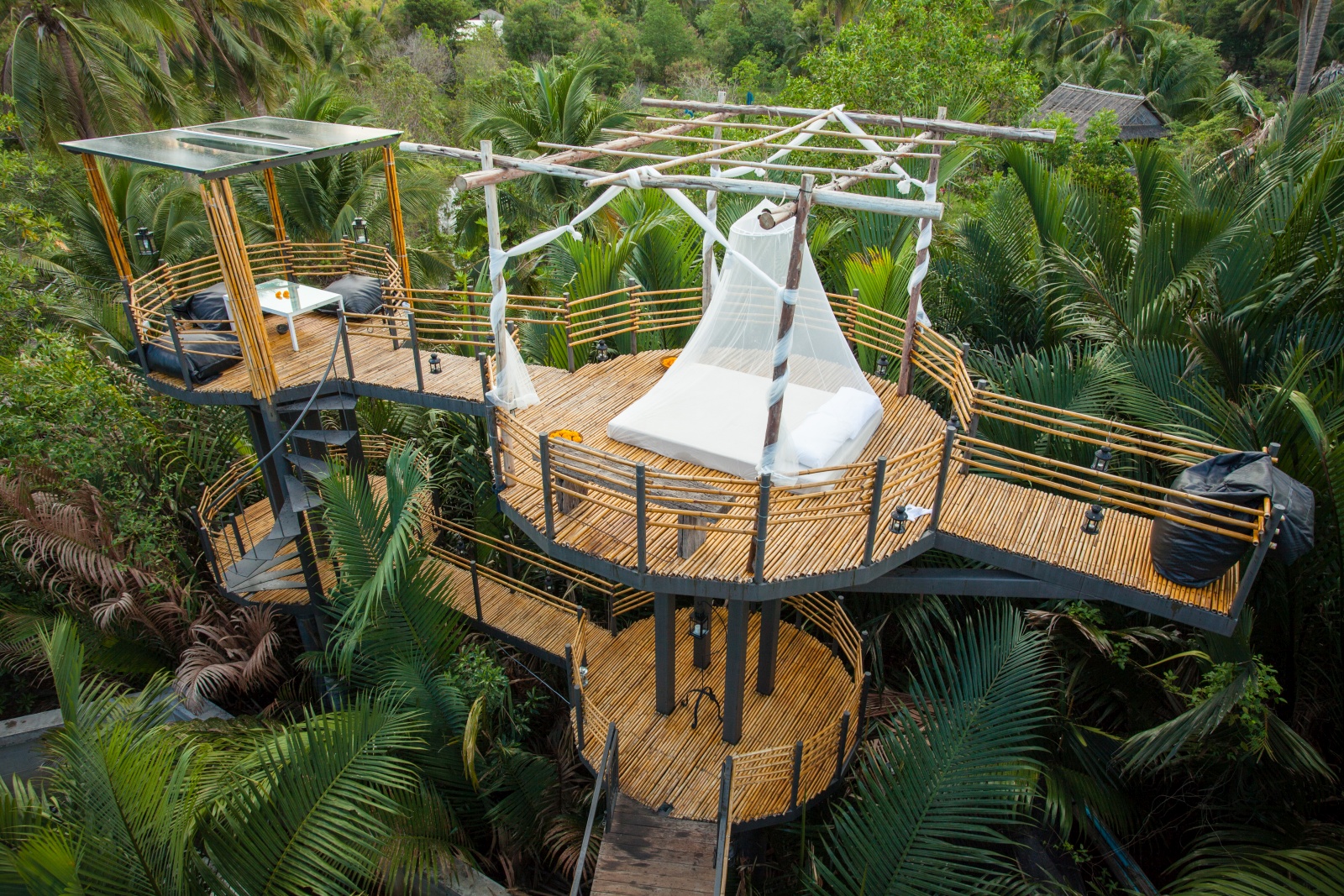 This Jamaican hotel was one of the first hotels worldwide to be certified as environmentally friendly.  From solar-powered water heating to locally produced toiletries, they do it all.
Basically, the hotel makes sure that nothing it does harms the environment. No hotel amenities are made from plastic, with bottled water provided in reusable thermal flasks. Plus, stationery in guest rooms is made from recycled paper by a local women's cooperative. Lush, tropical settings are an extra bonus!
7. Energy Efficiency & Conservation at The Andaman 
This island resort in Malaysia takes eco-friendly practices to the next level… Energy efficient light bulbs, low-flow shower heads and pre-programmed light and air conditioning settings.
Motorised water sport activities are banned, as they could destroy the live coral and contribute to water pollution. The Andaman recycles as much as possible. This includes re-using cooking oil from the hotel kitchen as biodiesel and collecting rainwater to allow guests to wash their hands and feet.
Want something feel-good to do while you're here? Guests can also enjoy coral reef enhancement and tree planting programs.
Interested in sustainable travel? Check out more top tips on how to travel sustainably here.