Spending 48 hours in Belfast? Historic sights, super-chatty locals, legendary pubs and a thriving restaurant scene ensure Belfast punches well above its weight on almost every count. Visit for a couple of days and see for yourself…
Think: Re-tracing the Titanic's origins and learning about recent history during the day. Then, exploring the vibrant Cathedral Quarter and enjoying some good old-fashioned craic at night.
Your Guide To 48 Hours In Belfast
Day One:
Get Your Bearings
After dropping off your bits at the supremely central Bullitt Hotel, take to the streets and navigate over to nearby City Hall. Imposing and grand in a Baroque Revival style, this huge Victorian pile (it covers an acre-and-a-half) is the majestic centrepiece of the city.
Take one of the free guided tours of the interior, then mosey down to bustling St George's Market to fill your belly with every local's favourite, Belfast baps. There's live music some afternoons too.
Let Your Heart Go On…
To reach the Titanic Quarter – the area of Belfast where the world's most famous ship was built – you need only head for the two huge yellow cranes (Harland and Wolff's 'Samson' and 'Goliath') that dominate the city's skyline. The actual Titanic Belfast museum is a belter, with all manner fab interactive, experiential exhibits on hand to bring the doomed ocean liner's tragic tale to life.
Want to get an idea of just how colossal the Titanic was? Walk about ten minutes along the waterfront (in the opposite direction to the SS Nomadic) and you'll reach the dry dock where the mighty ship was fitted-out and launched. Prepare to say "Oh. My. God" a good few times.
Round Off Your Day in the Cathedral Quarter
After spending a full afternoon in the Titanic Quarter, stroll over to the historic yet somewhat hipster-ish Cathedral Quarter where top-notch dining and drinking are very much the order of the day. You'll find yourself spoilt for choice on both counts. Buba (Eastern Mediterranean cuisine) and Coppi (Italian fare) are topping a lot of diners's wish lists at present.
Make sure you drop in at the Harp Bar when you're checking out boozers. It frequently delivers the best live music – and the best craic – in the city.
Day Two:
Wake-Up and Walk Up Cave Hill
Cave Hill is to Belfast what Arthur's Seat is to Edinburgh. A bloody big hill on the edge of the city which hungover people trek up to try and feel less hungover. Sensational panoramic views – which can take in the Mourne Mountains on a clear day – add greatly to the shock therapy.
We won't lie, it's a bit of a challenge. But, there's no better way to blow out the cobwebs from the previous night! Reward yourself with a top-drawer brew at Belfast's top coffee house, Established, when you return to town.
Delve Into the City's Troubled Past
Northern Ireland's unique political situation led it to experience some very dark times during the period of unrest known as 'The Troubles'. With this in mind, you can't really hope to get under the skin of this city without finding out a little more about its recent history. We suggest a tour around the city's neighbourhoods with the highly-rated Black Cab tour company. 
Even if politics isn't normally your bag, expect to feel moved, shocked and inspired. Your guide (armed with unparalleled local knowledge and very dark humour) will take you around the sites and murals that were the backdrop to some of the region's darkest days.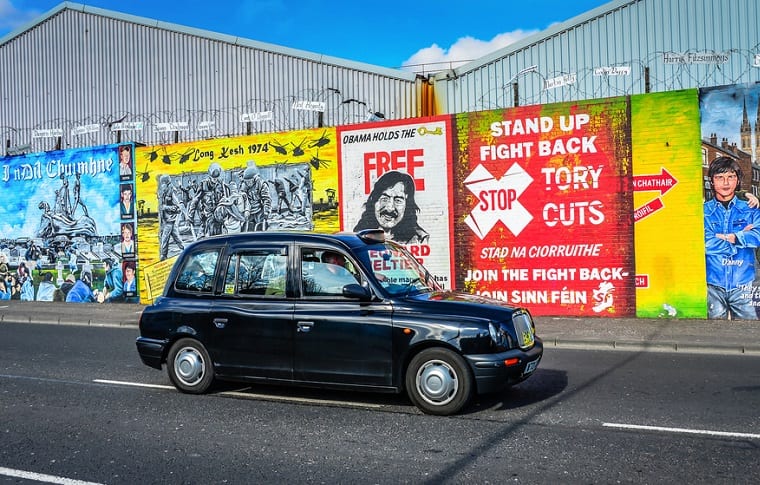 Sip a Pint or Two in Belfast's Most Famous Pub
Drop by the waterfront to devour arguably the finest boxty (traditional Irish potato pancake) known to man at Holohans Pantry. Then, take to your heels once more and drop by the city's most famous pub for a pint or two.
Dating from the early 19th century and now owned by the National Trust, the Crown Liquor Saloon on Great Victoria Street will dazzle you. Think: elegant tiles, original gas lamps and sublime carved ceiling. You can even warm your feet on a heated footrest under the granite bar as you sip on your Guinness. Superb!