The food in Rajashtan is rich, hearty and full of flavour. Curries are a main staple of Rajasthani dishes and often contain paneer or yogurt sauces. One famous Rajasthani curry is the kadhi, which has vegetable balls (pakoras) in a yogurt-based curry sauce.
Want to try make some of these dishes at home? The recipes below are from some of the world's top food bloggers. They've taken some of the classics and put their own unique stamp on the dishes! Make sure you bookmark the blogs and check out their other recipes as they are all superb.
Time to invite some friends or family over and to get busy in the kitchen cooking up a feast…
The Best Rajasthani Dishes
Rajasthani Dal Bati Churma Recipe is a very traditional recipe from Rajasthan. The Baatis are made from whole wheat flour, sooji and ghee with the addition of ajwain that adds to the delicious flavour of the baati.
Recipe is by Archana's Kitchen.
Rajasthani kadhi is a spiced curd sauce that can be had plain or served with steamed basmati rice or cumin rice.
Recipe is by Veg Recipes of India.
Gatta curry is made with gram flour dumplings boiled in water, sliced and added in a spicy yoghurt curry. Some like to fry the steamed gattas before adding in the curry, this depends on personal choice!
Recipe is by Maayeka.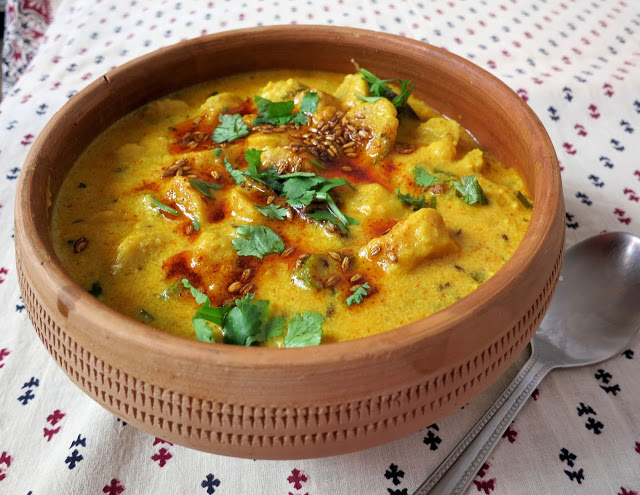 Laal Maas is a very famous dish from the state of Rajasthan. It has a striking red color gravy, filled with warmth from the spices that goes in. Typically goat meat is used, but you can use lamb too.
Recipe is by Playful Cooking.
Khasta Moong Dal Dry Kachori is a dry snack with a spicy filling of Moong Dal and a few more spices. They are really yummy and good for your small evening hunger pangs!
Recipe is by Cook With Renu.
A Rajasthani delicacy: Chicken cooked in Rajasthani style with loads of spices and its own juice.
Recipe is by Better Butter.
Balushahi is one of the traditional Indian sweets, using all-purpose flour, ghee, and yogurt. This sweet is crispy from outside and has a soft and flaky texture from inside. It is usually made for weddings and festivals in India.
Recipe is by Whisk Affair.