Salvadoran dishes are some of the tastiest in Central America, with the food in El Salvador similar to its neighbours – expect corn, beans, squash and tomatoes. You'll also find plenty of fresh seafood, tropical fruits and tender meats, including grilled pork or spicy chorizo sausage.
From deep fried yuca to pasteles (the El Salvador version of empanadas), the food here is exciting and hearty. While you'll have the most authentic experience of the food in the country itself, you can also try to make some of these dishes at home.
We're sharing some of the best classic regional dishes. These recipes aren't just any recipes either, as they have been created by the world's top food bloggers. The best of the best. Make sure check out the other great dishes on their sites too.
The Best Salvadoran Dishes
Don't confuse this savoury acidic veggie Salvadoran side dish with Mexican pico de gallo! You can serve this salsa with pupusas, empanadas, fried yuca, or with a meal of grilled meat (any kind) with rice.
Recipe created by Katy P.
Pupusas are El Salvadorian stuffed corn cakes served with curtido (cabbage relish) and salsa roja. These pupusas with curtido are filled with melty cheese, pickled jalapeño and roasted squash, but the filling options are endless!
Recipe created by A Cozy Kitchen.
This is a great, comforting soup for your family or friends. If fresh shrimp are not available, frozen ones will do just fine. It is usual to add cream to this soup – with or without, it is totally delicious.
Recipe created by She Paused for Thought.
Casamiento salvadoreño is the Salvadorian version of the ever-popular combination of rice and beans. It makes an excellent breakfast dish when paired with scrambled eggs with onions and red peppers. It goes great with fried ripe plantains, cheese, crema, tortillas or bread. You can also serve this for dinner, but without the eggs.
Recipe created by Que Rica Vida.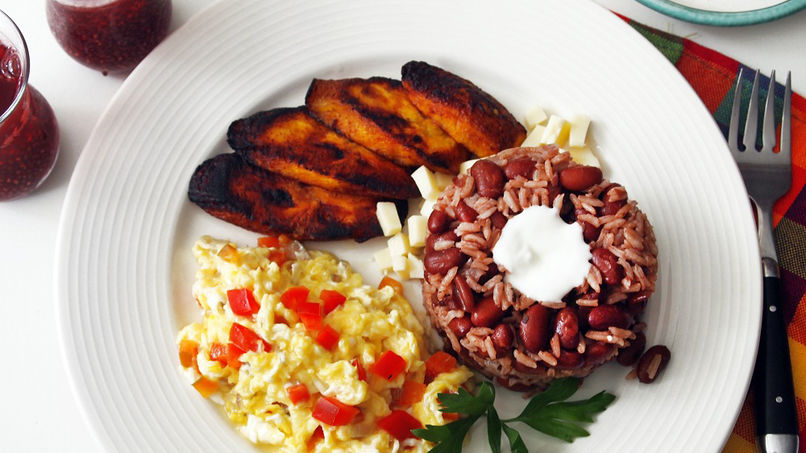 Quesadilla Salvadoreña is not that ordinary quesadilla where tortilla is filled with cheese and then grilled. This Salvadoran creation is, in fact, a dessert! It's a rich, delightful cheese filled bread / pound cake which is perfect with a cup of tea or coffee!
Recipe created by Cooking The Globe.
This family recipe for El Salvadoran Roast Turkey is both delicious and comforting. The perfect treat for any gathering or holiday party. This El Salvadoran Roast Turkey is usually served on bolillo rolls (which you can make yourself or buy from a South American market store) with romaine lettuce, onions, and tomatoes.
Recipe created by Olive and Artisan.
Tangy vinegar, Mexican oregano, and spicy red pepper (or thin slices of jalapeno or serrano chili) coat crunchy shreds of cabbage and carrot to create a refreshing slaw without any fat at all.
Recipe by Pinch and Swirl.
Spending time in the country? Check out The 7 Most Instagrammable Spots In El Salvador.