Take your tastebuds on a tantalising journey around the globe with our picks of the best food books to devour right now. From chef memoirs to deep dives into regional eats and even straight up cookbooks, you'll be drooling with every turn of the page…
Best Food Books for a Tasty Read
Chef and writer Edward Lee hits the road to discover the great evolving story of American cuisine. It's all about immigrant cuisine across the US, with interesting results. Each chapter includes two recipes to highlight the story. Think: Green Tea Beignets, Cornbread Pancakes with Rhubarb Jam, and Butternut Squash Schnitzel.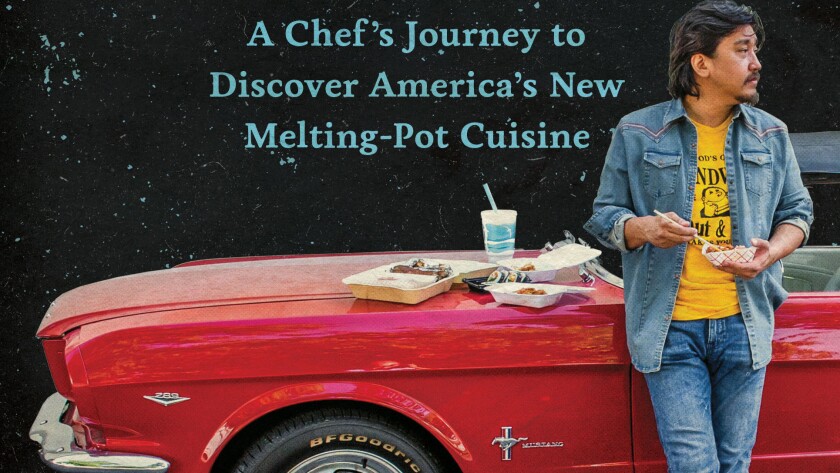 2.
Notes from a Young Black Chef: A Memoir
Har – Kwame Onwuachi
This is all about chasing your dreams. By the time he was twenty-seven years old, Kwame Onwuachi had opened—and closed—one of the most talked about restaurants in America. He had sold drugs in New York and been shipped off to rural Nigeria to "learn respect." He had launched his own catering company with $20,000 made from selling candy on the subway and starred on Top Chef.
3.
I Am a Filipino: And This Is How We Cook

– Nicole Ponseca

Curious about Filipino food? Filipino food is having its moment. Sour, sweet, funky, fatty, bright, rich, tangy, bold—no wonder adventurous eaters consider Filipino food the next big thing (Vogue declares it "the next great American cuisine"). This vibrant cookbook details the unexpected and addictive flavors of this diverse cuisine.
4.
The Fate of Food: What We'll Eat in a Bigger, Hotter, Smarter World

– Amanda Little

How will we feed nine billion people sustainably in the coming decades? An environmental journalist and professor asks the question: Is the future of food looking bleak—or better than ever? Amanda Little's journey takes her from an apple orchard in Wisconsin to a remote control organic farm in Shanghai, from Norwegian fish farms to famine-stricken regions of Ethiopia.
5.
Salt, Fat, Acid, Heat: Mastering the Elements of Good Cooking

– Samin Nosrat

The original book that inspired the hit Netflix show, this is a must-read. Highlighting the importance of just four elements, you'll learn how to confidently make better decisions in the kitchen and cook delicious meals with any ingredients, anywhere, at any time. Destined to be a classic, it just might be the last cookbook you'll ever need.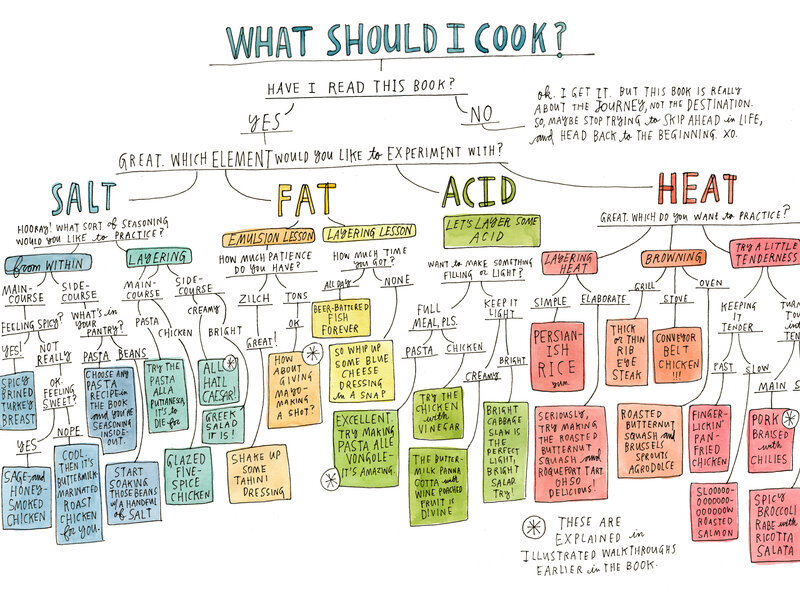 6. Kitchen Confidential: Adventures in the Culinary Underbelly – Anthony Bourdain
If you haven't read this book, do so ASAP. And if you have, then it's probably time to read it again. Iconic late chef Bourdain spills all after '25 years of sex, drugs, bad behaviour and haute cuisine'. From his first oyster in the Gironde to his lowly position as a dishwasher in a honky-tonk fish restaurant in Provincetown; from the kitchen of the Rainbow Room atop the Rockefeller Center to drug dealers in the East Village, from Tokyo to Paris and back to New York again.
It's one of the best food books you'll ever read.
7. The Man Who Ate Everything – Jeffrey Steingarten
When Jeffrey Steingarten was appointed food critic for Vogue, he set out to overcome his distaste for such things as kimchi, lard, Greek cuisine, and blue food. He never did quite like blue food, though. Steingarten details in 40 short stories his lifetime of 'eating everything'. Follow along as he goes to great lengths to taste the world's best foods.
At the drop of an apron he hops a plane to Japan to taste Wagyu, the hand-massaged beef, or to Palermo to scale Mount Etna to uncover the origins of ice cream.