Texas has some of the best scenery in the US, and these top places for hiking trails in Texas will show you a new side of the state. Pull your walking shoes on to explore  mountain peaks, vibrant red canyons and historic trails.
Whether you're an experienced hiker or just looking to get some fresh air on an easy-ish stroll, there's walks for all levels of fitness to enjoy.
Best Places for Hiking In Texas
Around 100 miles east of El Paso, you'll find the Guadalupe Mountains. Home to ancient rock art which dates back over 10,000 years, the highest point in Texas and a plethora of wildlife and fauna, it's no wonder it's a Texas favourite. Hike on any one of the parks 80 miles of trails and take in the never-ending views over Texas and New Mexico.
Few things wow quite like the Panhandle's Palo Duro Canyon. Straddling the area between Amarillo and Canyon, Texas, it's as remote and desolate as it is beautiful. As the nation's second-largest canyon, it draws hundreds of thousands of visitors annually. Here you'll find red and orange cake layers of every hue and sunsets that just can't be beat. It boasts more than 30 miles of hiking trails.
If your feet are up for it, you can test out your stamina with this nine-mile trek on the El Paso Mission Trail. The Mission Trail is a long hike with multiple stops along the way that will help you learn more about this city's history and culture. For a portion of this long hike, you'll be travelling on the one of the oldest roads in North America.
4. Lone Star Hiking Trail
At 130 miles in length, the Lone Star Hiking Trail (LSHT) is the longest wilderness hiking trail in the entire state of Texas. For a day trip, join in with the Lone Star Hiking Trail Club for a group hike. Hikes are easy to moderate and depending on the schedule normally cover 6 to 8 miles.
In West Texas, Big Bend is a hiker's paradise with over 150 miles of trails. Vast simply doesn't begin to cover the magnificent expanse of Big Bend. In the heart of West Texas' Big Bend, you'll find over 800,000 acres of mountains, desert and rivers. It's extreme isolation, and rugged wilderness makes it one of the best-preserved natural areas in the country.
6. Lost Maples State Park
In the Hill Country, admiring the fall foliage at Lost Maples State Park in Vanderpool is a Texas ritual, and so it should be! The trails mainly follow the pristine Sabinal River and its tributaries, with long flat stretches and short but rapid changes in elevation. This pretty park is where the bigtooth maples turn spectacular colors of red, orange and yellow; and nature proves that Texas does have four seasons, after all.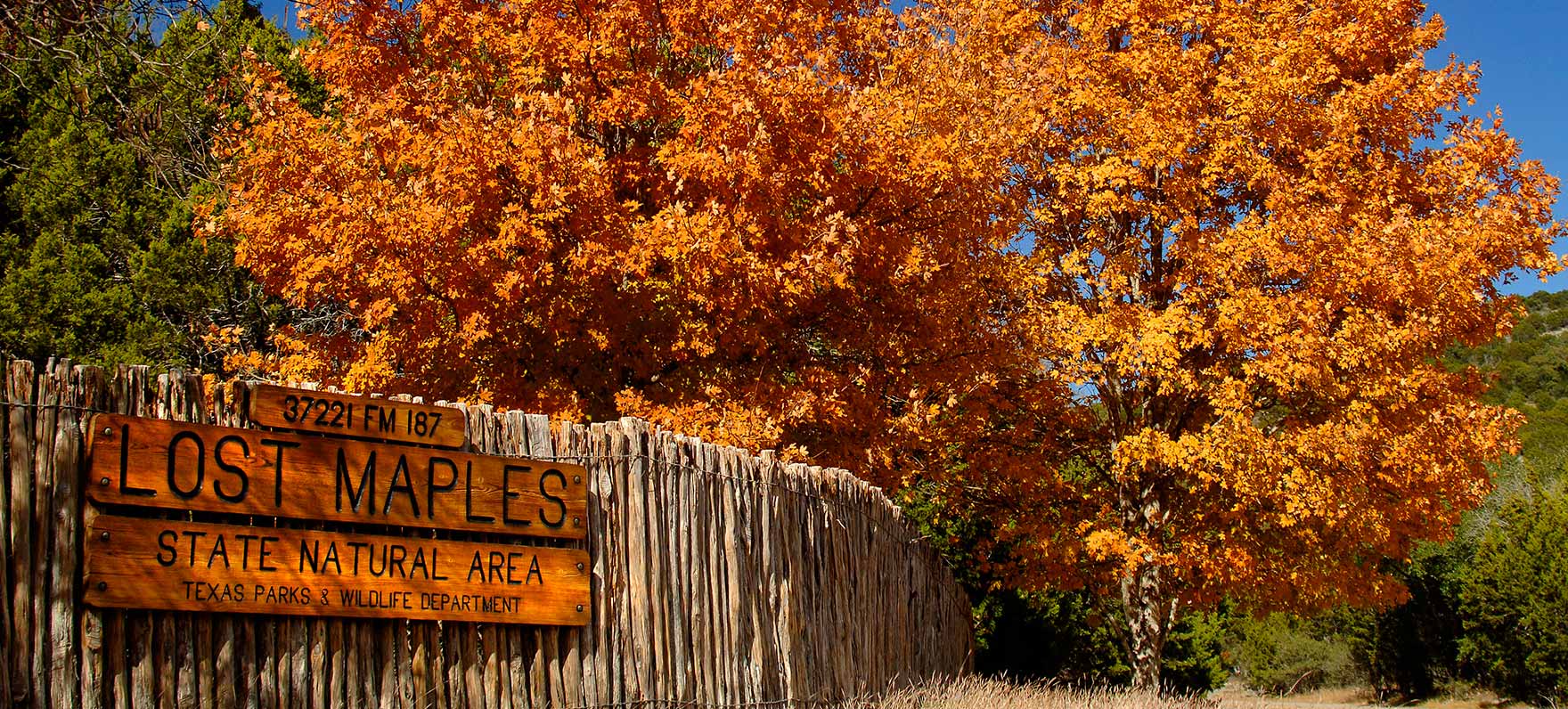 7. Galveston Island State Park
For those interested in exploring two thousand acres of dunes, marshlands and the diverse ecologies of the shoreline, head to Galveston Island State Park. Stop at the observation platform or photo blinds, and stroll boardwalks over dunes and marshes.