You've heard of the Northern Lights for sure, but did you know that the Southern Lights can rival even the most stunning light displays on the Northern hemisphere? This beautiful light phenomenon is otherwise known as as 'Aurora Borealis' in the north and 'Aurora Australis' in the south.
Unlike the Northern Lights, which are usually visible from late August to mid April, the Southern Lights can be viewed all year round. However, statistically, the best time of year to view the Southern Lights is around the equinoxes of March and September, though June and July are also good months as the sky is darkest then.
Where to see Aurora Australis? Here's some of the best places in the world…
Best Places to See the Southern Lights
1. South Georgia Island
Here is where you will see the Southern Lights (known as Aurora Australis) in all their glory! The island of South Georgia is famous for its association with the Polar Explorer, Ernest Shackleton and is one of the few land masses on the Southern Aural Oval.
Tasmania, an isolated island state off Australia's south coast, has breathtaking views of the Southern Lights. For the best views of the Southern Lights at this small island just 30 minutes by car from Hobart, climb the stairs at The Neck and point your camera southwards. Southern Lights or not, the views of the island, ocean and vast, starry sky are memorable.

3. Ushuaia, Argentina
Ushuaia is located at the southernmost tip of South America, nicknamed the "End of the World." It's closer to the Antarctic Circle than Tasmania, South Georgia and Stewart Island, and in the winter season, you can expect up to 17 hours of darkness.
4. Antartica
Given that Antarctica is as far south as you can go, nothing beats seeing the Aurora Australias here. The colours are at their most vibrant; seeing the light reflect off the ice is unforgettable. It will take a bit (a lot!) of effort to get here, but it's worth it.
5. Lake Tekapo, New Zealand
Lake Tekapo is part of a UNESCO Dark Sky Reserve, making it the perfect spot for stargazing. Drive to the Aoraki Mackenzie International Dark Sky Reserve, which is one of only eight places in the world where light pollution is controlled, guaranteeing dark skies.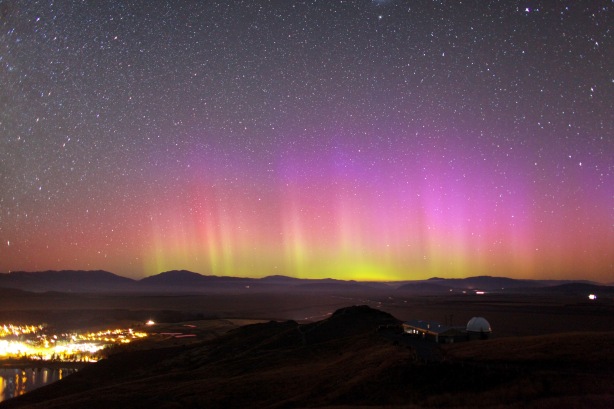 6. Stewart Island, New Zealand
This is the the most southern populated island in New Zealand, located at 47° south, and is an excellent place from which to see the Southern Lights – the Aurora Australis. Stewart Island's Māori name, Rakiura, translates as 'glowing skies'.
7. The Falkland Islands
A study by astronomers shows that the Falkland Islands is one of the top places in the world to see the Southern Lights. 400 miles off the coast of South America,  they're the perfect remote location. The best time to see the lights from here is between April and August when the days are short.