From Windandsea Beach in La Jolla to Mavericks, California is home to some truly epic waves. It makes sense then, that surfing is the official sport of the state! Whether you want to catch a wave yourself or just watch some of the world's best surfers, these top surfing spots in California are the place to go…
Best Surfing Spots In California
1. Windansea Beach, La Jolla
This beach is a well-known surf spot, attracting local crowds and its share of competition for waves. It even appeared in Andy Warhol's 1967 film, San Diego Surf. Windansea's wave can be sizable (ranging from 2–10 feet) and conditions tend to be unpredictable. Because of its difficulty—along with its reputation for being a competitive atmosphere—it best suits skilled surfers.
2. Huntington Beach Pier, Huntington Beach
The Huntington Beach City Beach is a 3.5-mile stretch of pristine shoreline. Popularly known as "Surf City," Huntington Beach is home to the world famous municipal pier, and is a west coast surf mecca for more than 8-million annual visitors. Depending on the day, even beginners can surf where such champions as Andy Irons and Kelly Slater triumphed.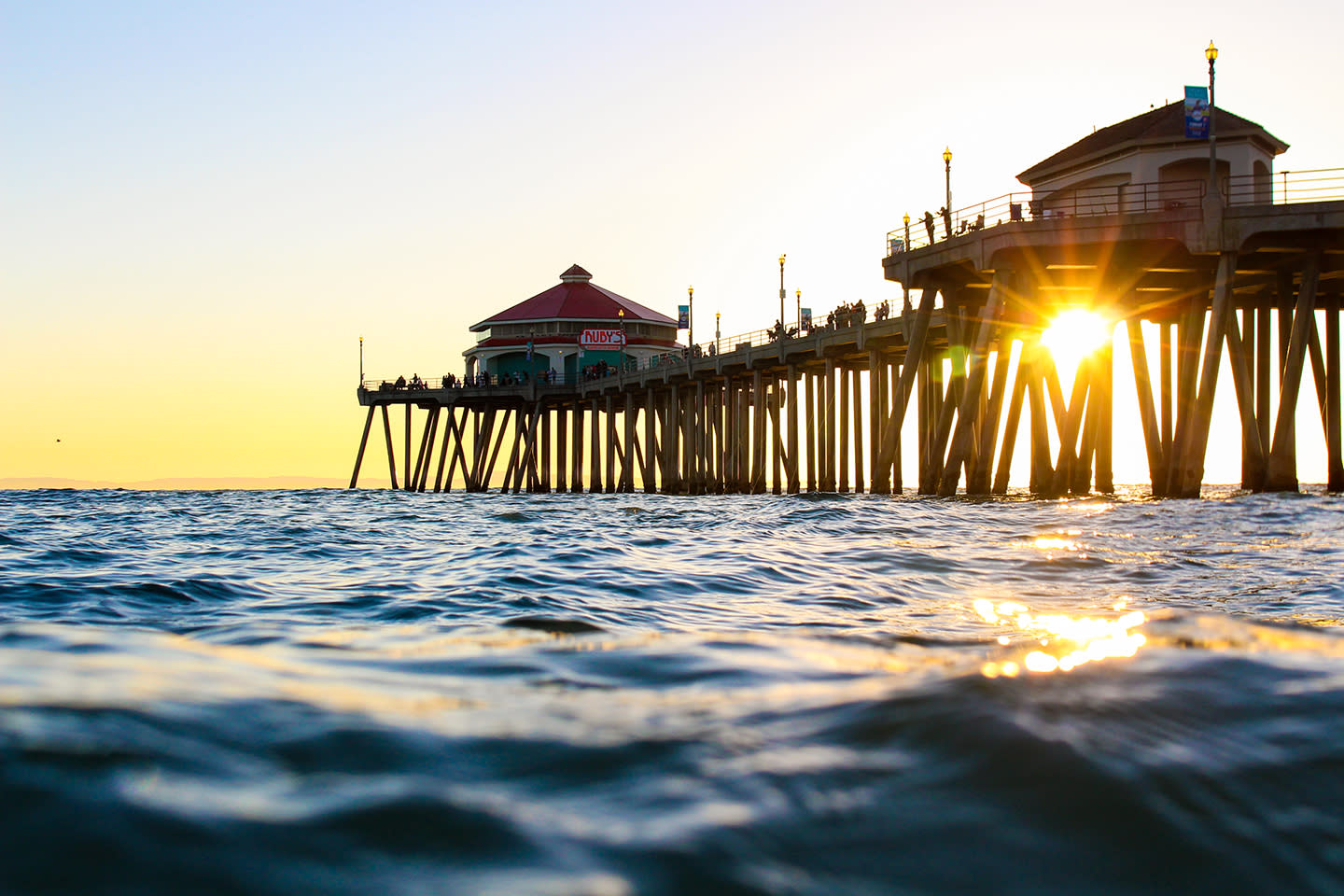 3. Surfrider Beach, Malibu
Surfers talk up this spot because of the perfect swells created by Mailbu Point. This right cobblestone point break at Malibu Lagoon State Beach was honoured as the first World Surfing Reserve by the Save the Waves Coalition. Surfrider isn't for beginners but this is a wave to aspire to!
4. Mavericks, Half Moon Bay
A longtime local secret in Half Moon Bay and now the most famous wave anywhere on the mainland, Mavericks deserves its fame. Celebrated in books, documentaries, and the feature film Chasing Mavericks, waves here can rise to 80-foot faces when conditions are right. It's a feared monster wave, that has a reputation for being one of the deadliest waves on Earth.
5. Pismo Beach Pier, Pismo Beach
At this classic beach town you'll find outstanding surfing on both sides of the landmark pier. Much of the time the waves here are suitable for beginners but are also high enough in quality to host the World Surf League Qualifying Series Pismo Beach Open in October.
6. Rincon Point, Carpinteria
Described by surf historian Matt Warshaw as "America's gold-standard point break," Rincon straddles the border of Ventura and Santa Barbara counties. The waves are so good during winter swells that Surfline.com states, "Some spots serve as undeniable proof that our Creator was a surfer." If you're driving on U.S. 101 and see a crowded line-up, pull off to watch the action.
7. The Wedge, Newport Beach
An area known for its shore-breaking waves and the biggest swell in Southern California, the Wedge is more a place to admire than to engage. Because of the potential for 30-feet waves, you may see more bodyboarding or bodysurfing in action here than surfing.