A wonderfully vibrant festival, Holi is also called the festival of love or the festival of colours. Holi Festival is a fun festival that is celebrated in India and all over the world each spring, with a riot of colours, powder dyes and bonfires. It's a time to ring in new beginnings with friends and family!
Here's everything you need to know about Holi and how to celebrate it in 2020.
Holi Festival – What You Need to Know
1. What Religion Celebrates Holi?
Holi is a traditional Hindu festival that is celebrated all across India. While cities all over the world have their own Holi celebrations, it originated in and is still most celebrated in India. Although it is a religious festival, it's more to do with festivities and family gatherings than religious activities.
2. When is Holi?
Holi always falls on Purnima, or the day of the full moon. Holi is actually a two-day holiday; the day of the March full moon is Holika Dahan. In 2020, Holi is on March 10th, with Holika Dahan on March 9th.
In the Braj area of India, Holi is celebrated for up to 16 days!
3. How do People Celebrate Holi?
Days before the festival people start gathering wood for the lighting of the bonfire called Holika at the major crossroads of the city.
People celebrate Holi by getting some gulal, a bright, colorful powder, and showering your family and friends with it. On Holika Dahan, the day before, a huge bonfire is lit to burn away bad spirits and any evil. The next day, the fun begins!
People take to the streets with colourful powders and pichkaris (water guns) filled with colourful water to throw vivid colours over friends, family and pretty much everyone as there's live music and dancing in the streets. You'll also enjoy a huge feast of special sweets and dumplings.
4. What's the History of the Festival?
One of the main focuses of the Holi Festival is a celebration of the victory of good over evil. In ancient times, the festival was a special rite performed by married women for the happiness and well-being of their families and the full moon (Raka) was worshiped.
A legend around Holi is the story of Krishna and Radha. As the 8th incarnation of the Hindu god Vishna, many see Krishna as the supreme god. Legends say that Krishna had blue skin because he drank poisonous milk from a demon when he was a baby. Krishna fell in love with the goddess Radha, but feared she would not love him because of his blue skin – so Radha allowed Krishna to dye her skin with color, making them a true couple.
So this is why people apply colour to each other's skin during Holi, in honour of Krishna and Radha.
5. Do Different Colours Symbolise Different Things?
Yes! Here's some of the most popular colours and their meanings:
Red: Love and fertility
Yellow: usually made of turmeric, this is a natural Indian remedy
Blue: this represents the Hindu God Krishna
Green: New beginnings
6. Is There Traditional Food to Eat for Holi?
Sweet dishes are synonymous with Holi, with family gatherings and restaurants having a huge array of treats. The most popular is gujiya or stuffed dumplings, as well as ras malai –  sweet dough balls stuffed with cream, saffron and pistachio nuts with a fresh cardamom cream.
Puran Poli is another favourite, It's a buttery flatbread similar to the 'roti' with stuffing (Puran) and it comes with ghee (clarified butter) or milk.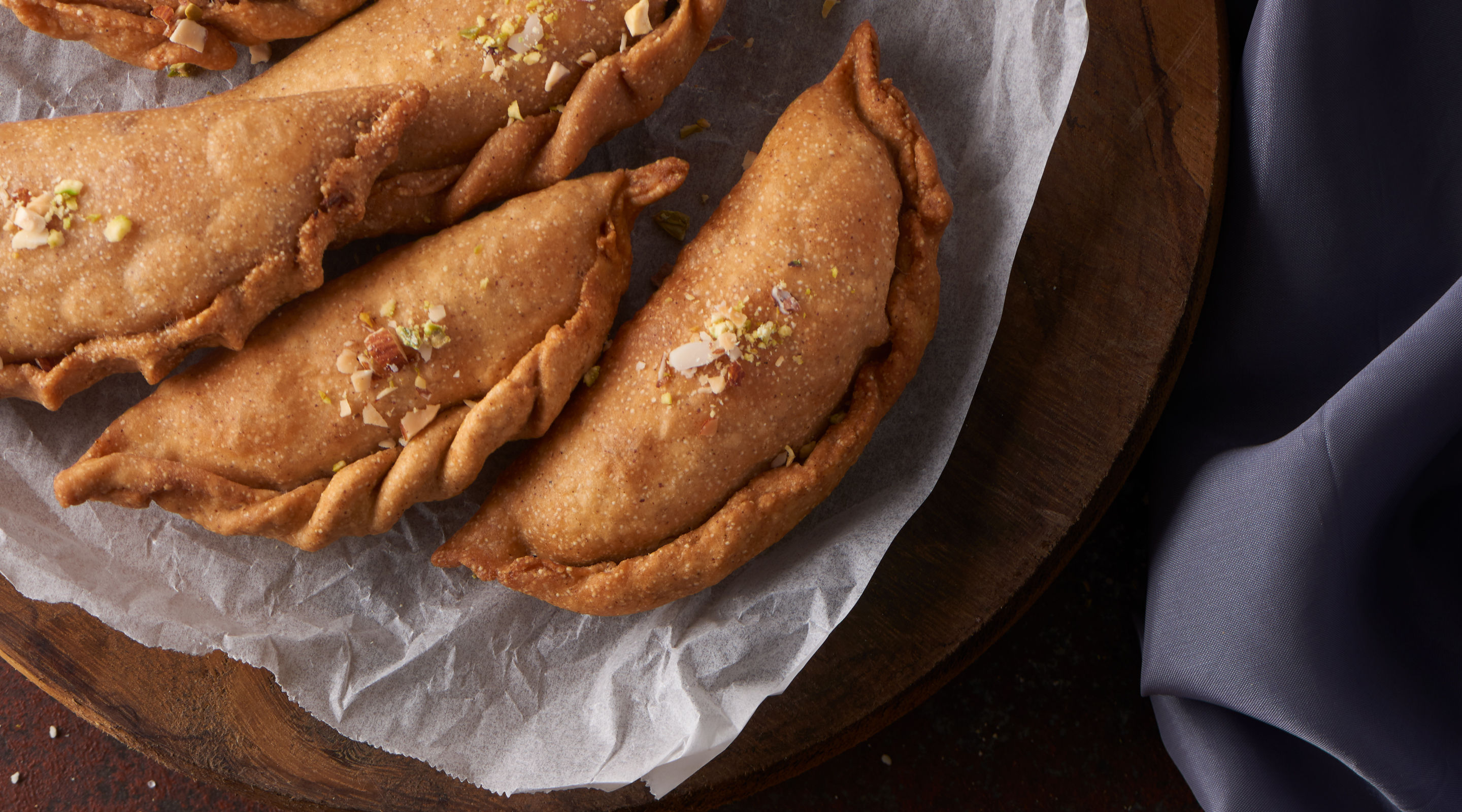 7. Where's the Best Place to Celebrate Holi?
If you can't make it to India (top places to celebrate Holi in India include Goa, Mathura and Barsana), there's plenty of cities that host 'festival of colours' fun. Houston Holi in Texas lies claim to the "biggest festival of colors in the U.S."
See here for more USA Holi festivals.