You know all about Chicago's soaring skyscrapers, epic pizzas and moody blues, but are you ready to really get under its skin..? A weekend in Chicago is just enough time to get a feel for the city. Think: admiring architectural wonders, munching massive eats and checking out world-class museums by day; drinking like a 1920s gangster and listening to blues late into the night.

Here's How to Spend a Weekend in Chicago:
Take It To The River
With your bits and pieces all squared away in your room at the sleek CENTRAL LOOP Hotel, step out onto The Windy City's pulsing streets and head directly for the Riverwalk. Along with a nice assortment of laid-back outdoor bars and cafes, this one-and-a-quarter mile-long promenade lets you appreciate the city's famed skyscrapers from some super-cool angles. Sign up for a boat trip on the First Lady's Architecture Tour if you'd like to nab all the views (and info) without doing any of the walking.
Soak up Epic Vistas From the Willis Tower
Time now to look down rather than up, and where better to do so than the tallest building in the Western Hemisphere, The Skydeck Chicago at Willis Tower. If being 103 floors up with views to Mount Everest isn't enough of a buzz for you then give 'The Ledge' a go. It's essentially a small glass box that lets you stand, seemingly on air, a gazillion metres above the city streets. 
Head away from the skyscrapers toward Lake Michigan and you'll hit one of Chicago's most popular attractions, Navy Pier. With everything from rides and restaurants to outdoor bars and theatres, this family-friendly place has a warm and easy-going vibe that has a way of making you you stick around longer than you intended. The views of the city from here are pretty awesome, too.
Drink Like a Gangster
Chicago is of course synonymous with prohibition era gangsters and speakeasies. If you want to indulge your inner mobster then strut Uptown to the Green Mill Cocktail Lounge on Broadway. Rumour has it Al Capone and his cronies used to drink here and that they used the building's underground pathways to transport liquor away from Elliot Ness' prying eyes. The Green Door, a former speakeasy and reputedly Chicago's oldest surviving drinking establishment, is another top place to live out your fantasies of being a 1920s wise guy.
Day Two:
Mooch around Millennium Park
Once you've filled up on breakfast, make for 'The Loop' area of Chicago and spend the morning mooching around Millennium Park. One of the city's most visited attractions, this leafy oasis has a number of innovative features to mark it out, such as two 50ft fountain towers that play video footage of different faces (of native Chicagoans) that spit out water when you least expect it. Don't leave without taking a selfie at the iconic mirrored landmark that is Cloud Gate, also known as 'The Bean.
An institution in Chicago, the Revival Food Hall on S Clark St is the place to come and devour some of the city's most famed dishes. That's right, you'll find an array of places offering local staples like deep-dish pizza, hot dogs and Chicago mix popcorn – as well as a hundred other things besides – in this vast 24,000-square-foot culinary Shangri-la. Remember though; you still have a fair bit of walking to do so go easy on the Italian beef sandwiches…
As the second largest art museum in the USA and the proud owner of one of the most comprehensive collections of impressionist, contemporary and modern art on the planet, the Art Institute of Chicago is an absolute must-see. Even those who don't consider themselves arty types tend to lose their shit a bit when they realise Monet, Degas, Renoir, Cézanne, Magritte, Pollock,  Warhol, Dali, Kandinsky and Picasso are all here. Nothing short of sensational.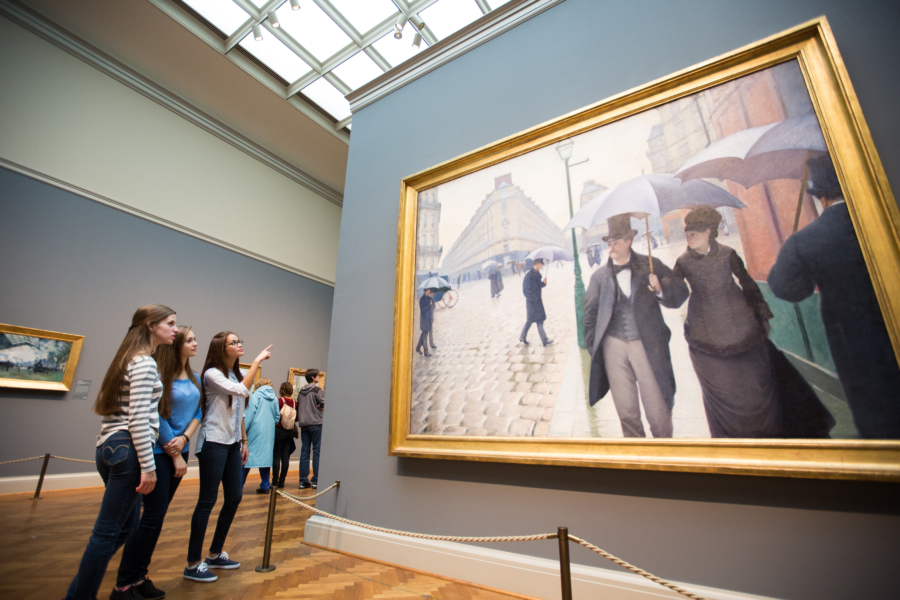 Blues is to Chicago what flamenco is to Seville – the de facto musical lifeblood of the city. Though there are 101 places to catch a good blues band in the city, few can match the legendary Lincoln Park venue of Kingston Mines in terms of history and prestige. Get here late, kick back with some draught beer  and let the music – and the vibe – work its magic. The best way to finish off a perfect weekend in Chicago…