Keen to get out and explore the outdoors this summer? There's plenty of day trip adventures to be had in this pretty state. From Amicalola Falls in the Northeast Georgia Mountains to the Okefenokee Swamp in south Georgia, prepare to be awestruck by the unique natural wonders of Georgia's landscape.
Get ready to explore waterfalls, canyons, swamps, springs and mountains…
Natural Wonders In Georgia
1. Amicalola Falls
The tumbling waters of Amicalola Falls form the tallest cascading waterfall in the Southeast. Want to make a night of it? Hike along a 5-mile trail to wind up at the very cosy Len Foote Hike Inn.
Amicalola Falls State Park is a great starting point for the Appalachian Trail with an eight-mile approach to its southern terminus, Springer Mountain.
2. Okefenokee Swamp
Located in the 400,000-acre Okefenokee National Wildlife Refuge, the Okefenokee is North America's largest blackwater swamp. Paddle among wildlife in a mysterious, breathtaking landscape of reflective waters and gorgeous cypress forests draped in Spanish moss.
3. Providence Canyon
Unpack your hiking shoes for a trek around one of Georgia's most beautiful natural wonders! Also known as 'Little Grand Canyon', the canyon soil's pink, orange, red and purple hues make a beautiful natural painting at this quiet park.
Backpackers explore the canyon inside and out along a challenging 7-mile trail.
4. Radium Springs
Georgia's largest natural spring pumps thousands of gallons of water from an underground cave, giving the waters a surreal turquoise glow. Enjoy a shaded walk, gazing at the crystal clear pools, before paddling the Flint River to search for other blue holes.
5. Stone Mountain
Stone Mountain Park is Georgia's most visited attraction. Not just a stunning natural wonder, Stone Mountain Park also holds records for the world's longest running laser show and the largest bas-relief carving on the planet.
It's fun for all the family.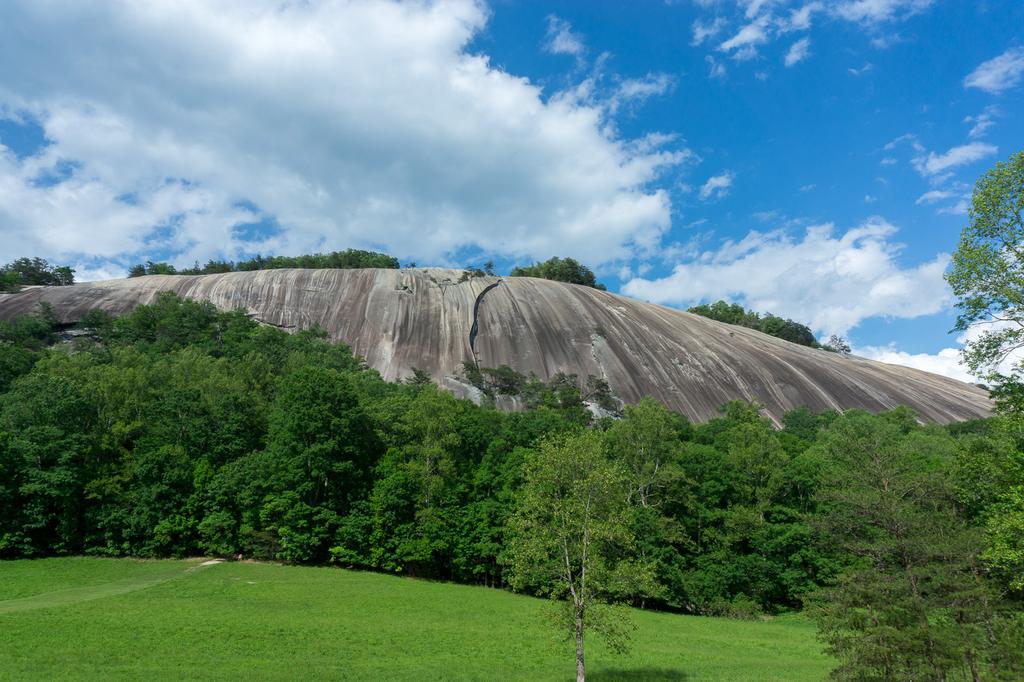 6. Warm Springs
Made famous by President Franklin D. Roosevelt's search for a polio cure, these spring waters have offered a therapeutic environment for many patients.  The springs are in F.D Roosevelt State Park, which is a hiker's and backpacker's haven. More than 40 miles of trail offer adventure winding through forests. You'll have pretty views of waterfalls and crossing creeks in the rolling mountains southwest of Atlanta.
7. Tallulah Gorge
Nearly 1,000 feet deep, this two-mile gorge carved by the Tallulah River is one for the thrill seekers! A suspension bridge sways 80 feet above the rocky bottom, with amazing views of the river and waterfalls. You can also apply for a permit to hike to very bottom of the gorge floor.
Descend into the canyon via staircases and natural surface paths, cross a suspension bridge, and cool off at a natural sliding rock and swimming hole at the gorge floor.