It's no surprise that some of the places to stay in California push the boundaries of traditional accommodations. It's well known for being a fun-loving, free-spirited state! From tree nests in Big Sur to a ghost ship in Sacramento, the Golden State offers some of the most unique accommodation. Here's our pick of unusual hotels, campsites and treehouses to spend a night in…
Unique Places To Stay In California
This campsite features six Airstreams that have everything you need for a luxurious glamping trip – including a kitchen, bathroom, AC and heating – while the site itself plays up the fun, retro theme with pink flamingos and colorful vintage patio furniture. It's the perfect spot for camping vibes without actually pitching a tent!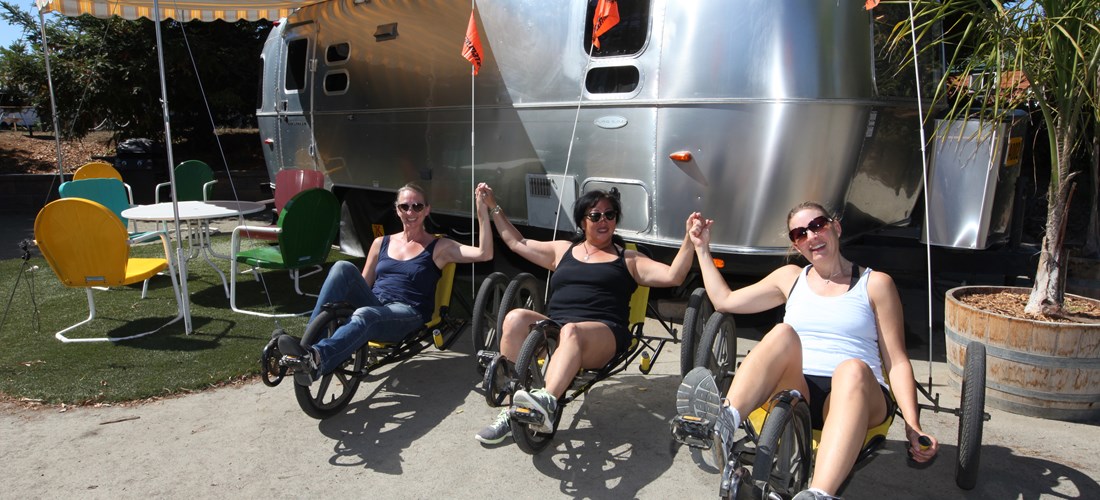 Want an artsy stay in the outdoors? Spend a night in the Twig Hut, which features a hand-woven, two-story structure with spectacular northern ocean views and a full-sized futon pad inside, as well as access to a "writer's nook" below with an outdoor love seat.
The unusual wood-art in this resort is by Big Sur artist Jayson Fann. Like a bird's nest, they're not weather proof, so Treebones recommends pitching a "just in case" tent.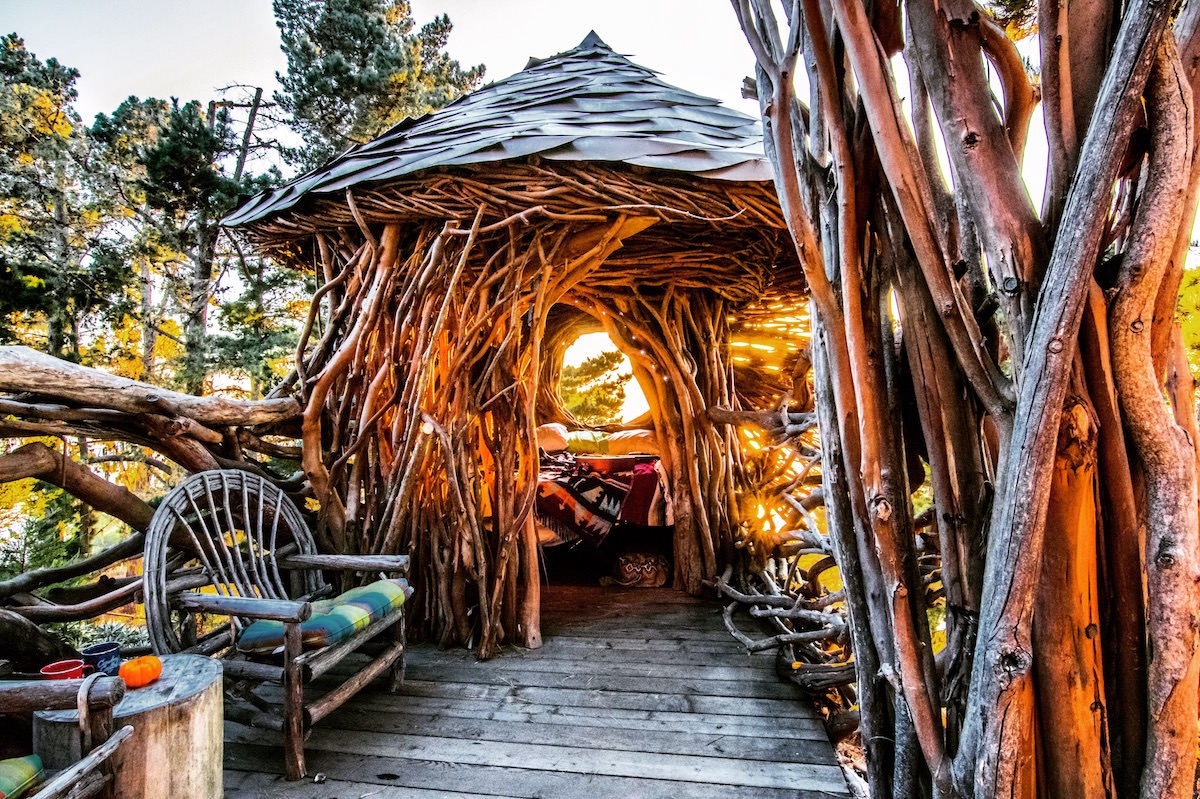 The historic Delta King riverboat in Sacramento offers guests the chance to stay in another era. Step back to a time when the 285-foot boat did daily trips to San Francisco, serving booze during Prohibition and offering jazz, gambling and fine dining. The hotel has 44 rooms, two restaurants and a theater that some believe is haunted by the original captain.
The Madonna Inn has 110 whimsical guestrooms, each with their own themes including: Caveman, featuring animal prints, a rock pond, stone-age clubs and a waterfall spilling from a stone shower; and the Love Nest, which you access by a quaint trestle bridge. It features an enchanting staircase winding upward into a private viewing tower along with French-styled furnishings surrounded by shades of pink.
This recently renovated 1864 Victorian has six incredible suites with themes including a sheik's tent, 50's drive-in, pirate ship and gypsy caravan. Each room features themed beds, in-room hot tubs, fireplaces and hidden bathrooms. Each theme is then amplified by inspiring music, fragrance, hand-painted murals and tiles, movies and furniture. If you're looking for somewhere really unique, this is the place to go.
You can "rough it" in this legendary hotel in a luxury tent with a queen-size bed, crystal chandelier, marble lamps, fur rugs and antique nightstands. Guests can also indulge in special campfire s'mores made with 24-carat gold leaf, Tahitian vanilla bean marshmallow, and a smoked 55% Valrhona chocolate bar crafted.
Set high above Rodeo Drive, this allows you to sleep under the stars in the 'City of Stars'. This five-star stay is pure luxury in the heart of LA.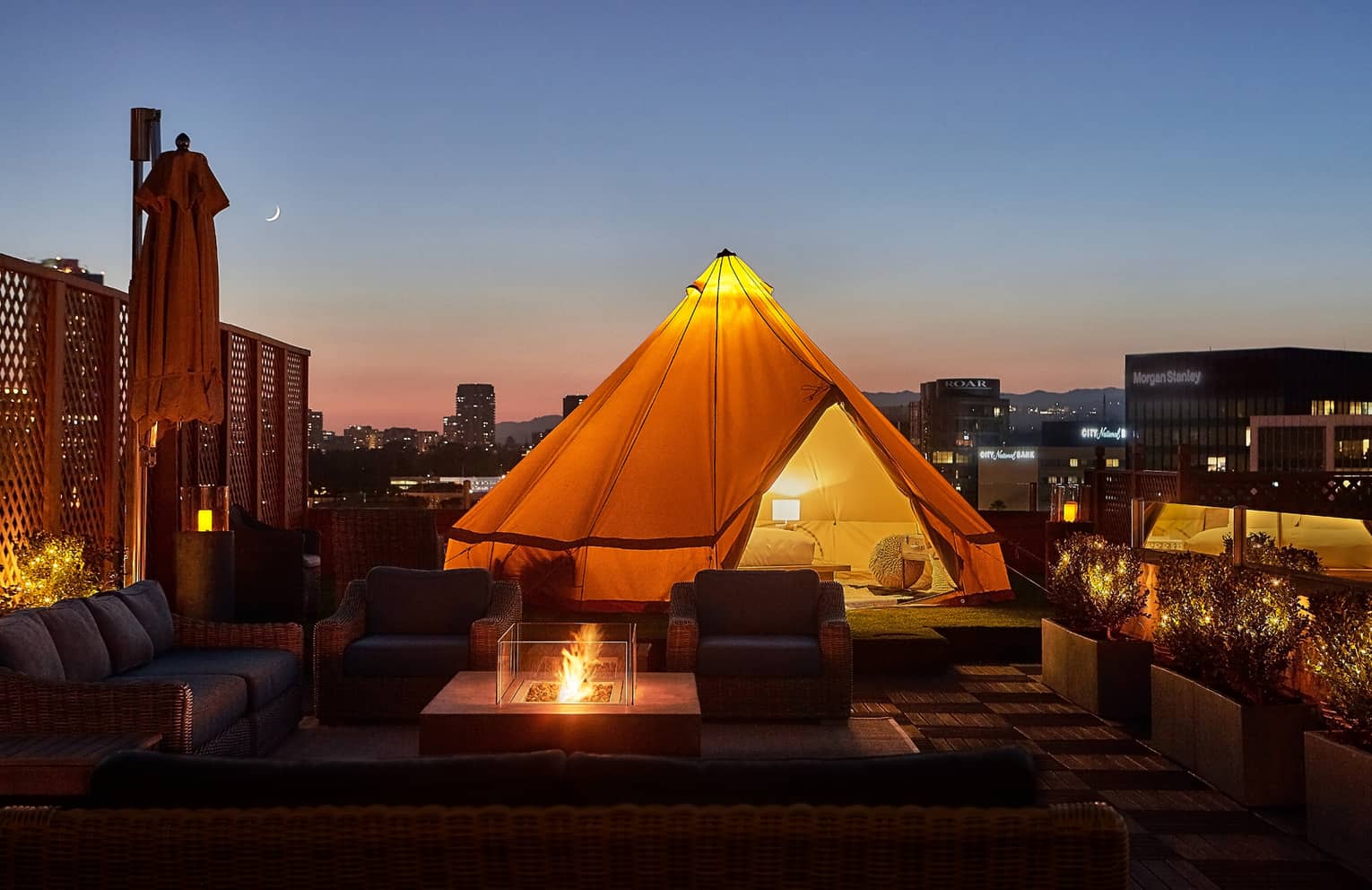 Hang with artists at this trailer park motel in Joshua Tree. Consider Western-themed "The Pioneer," a log cabin trailer with cowboy-print curtains, or hot-pink "The Fifi," designed by the owners of a New Orleans wig store.
Gather on the fake-grass lawn to enjoy a few cold ones or roast s'mores at the fire pit. There's also a communal bathhouse, a solar-heated saltwater swimming pool (open March to November) and a rooftop hot tub.
Plus, let's not forget about the games! There's mini golf, archery, ping-pong, a dartboard, horseshoes, and a no-coins-required jukebox. Dogs are welcome too; they'll have fun paddling in their own special pool at Fort Dog.