Possibly India's foodie capital: Mumbai dishes are a must-eat! Street food in Mumbai is some of the tastiest in the country, making this city in the Maharashtra region a hotspot for food. As a coastal city, seafood is popular here, with other staple dishes including rice, aromatic fish curries, Indian bread (chapatis and rotis), vegetable curries, pulses and desserts. And of course, we can't forget Mumbai's famous chaat, a dry crunchy snack that's sold by hawkers on every street.
Want to try make some of these dishes at home? The recipes below are from some of the world's top food bloggers. They've taken some of the classics and put their own unique stamp on the dishes! Make sure you bookmark the blogs and check out their other recipes as they are all superb.
Time to invite some friends or family over and to get busy in the kitchen cooking up a feast…
Best Mumbai Dishes
Batata Vada, (Mumbai Style Aloo Bonda), is a popular Mumbai street food. Ginger, Green chilli and garlic flavoured potato dumplings dipped in besan and corn flour batter and deep fried in oil. When served hot, they are so crispy and yummy!
Recipe is by Subbu's Kitchen.
Chicken baida roti is an easy and delicious recipe that you can serve as a snack or appetizer. Chicken and egg stuffed in the roti, folded into a square and cooked until crispy. It's the perfect snack.
Recipe is by Anto's Kitchen.
Vada Pav means a sandwich or a burger. It consists of Vada (the filling or the patty) and pav (the bread or the bun). Vada is made of a potato mixture, which is seasoned with spices. It is then coated with gram flour batter and then deep-fried. The Vada is then sandwiched between pav, i.e. bread or dinner roll along with some chutney and green chilies!
Recipe is by Cook With Renu.
This masala sandwich is a super popular Mumbai street food. This version shows you how to make it at home on a pan. There are plenty of different elements in this Bombay sandwich. Green chutney, filling, chaat masala, grilled bread – each bite brings an explosion of flavours!
Recipe is by Nish Kitchen.
Pav bhaji is a popular Indian street food that consists of a spicy mix vegetable mash & soft buns. Usually pav bhaji is served with a generous amount of butter topped along with some fresh chopped onions & lemon juice. Eat the buttery toasted pav along with the veggie mash or bhaji.
Recipe is by Swashti's Recipes.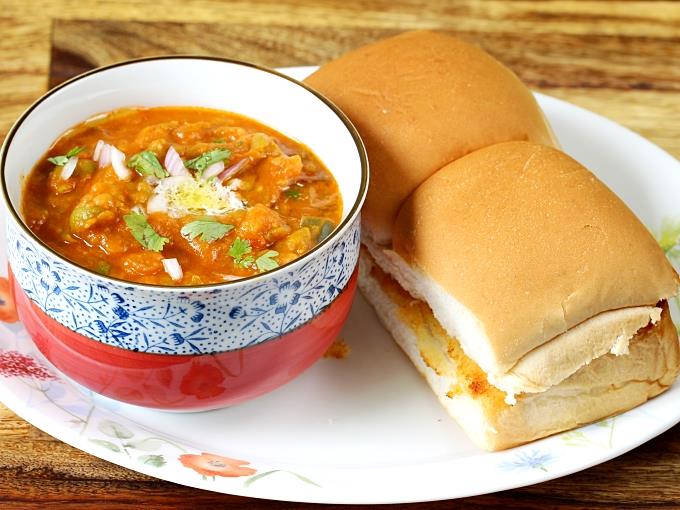 Chicken Manchurian is a dish of diced chicken fried with a thick sauce of ginger, garlic and green chillies – an essential combination in Bengali cuisine – together with soy sauce and corn starch, and some­times vinegar and ketchup. Nelson Wang – an Indian restaurateur of Chinese descent – invented the dish in 1973 while chef at the Cricket Club of India, in Mumbai.
Recipe is by Archana's Kitchen.
Prawns koliwada is a famous dish from Mumbai. The prawns are a flavourful mix of ginger-garlic paste, red chilli powder, cumin powder, lemon juice, and cornflour, balancing out the flavours just right. You can serve it with some lemon wedges and sprinkle some chaat masala on top of it!
Recipe is by Art of Cooking.