Bakers in the South (that's Kentucky, Virginia, North Carolina, South Carolina, Tennessee, Arkansas, Georgia, Alabama, Mississippi, Louisiana and the Florida panhandle!) know more than a thing or two about sweet treats. The region is well known for its iconic Southern desserts. With plenty of ripe fruit and nuts, classic comfort food and heavenly pies, you won't be able to resist these desserts.
From Texas Pecan Pie to Banana Pudding in Tennessee, you'll be drooling over the desserts in the South…
Traditional Southern Desserts
1. Fresh Peach Cobbler
This classic summer dessert is a Southern favourite! Ripe, juicy peaches go perfectly with hints of cinnamon, and a buttery light batter. It's all about the soft peaches with the crunchy crust. And of course, a generous scoop of vanilla ice cream on top… Yum.
2. Pecan Pie
You can't visit Texas without sampling some homemade pies. Homemade pecan pie is one of the most popular and delicious, though fruit pies and thick meringues are also local favourites.
3. Buttermilk Pie
Buttermilk pie is a traditional dessert in Georgia. It's a little like custard pie, but even better! The buttermilk pie in Yesterday Cafe in Greensboro is from a family recipe that's a favorite with "Southern Living," "Good Morning America" and country star Carrie Underwood.
4. Banana Pudding
Known across the nation as Tennessee's state dessert, this creamy dessert is to-die-for. Want to sample some of the best pudding in the state, all in one place? Check out Centerville's National Banana Pudding Festival each October.
5. Coconut Cake
Coconut cake is a classic Southern dessert. Ask anyone who grew up in the South what their favourite dessert is and they'll probably name this in their Top 3! With light and tender coconut cake layers, a creamy coconut filling, and coconut cream cheese frosting, it ticks all the flavour boxes. You'll be going back for a second slice…
6. Mississippi Sweet Potato Pie
This Mississippi Sweet Potato Pie is a traditional dessert in the South. It's a little like pumpkin pie, but sweeter and creamier. It's a proper old school treat and every family has their own recipe – usually from Grandma! Make sure to have some homemade whipped cream to add on top. Perfection.
7. Bananas Foster
This is a classic dessert in New Orleans. Bananas are sautéed in butter and sugar and cinnamon and then bathed in rum, which is set aflame. The fire burns off the alcohol in the rum, leaving just a smoky taste and rum flavour. This delicious treat is usually created tableside to impress and then served over vanilla ice cream.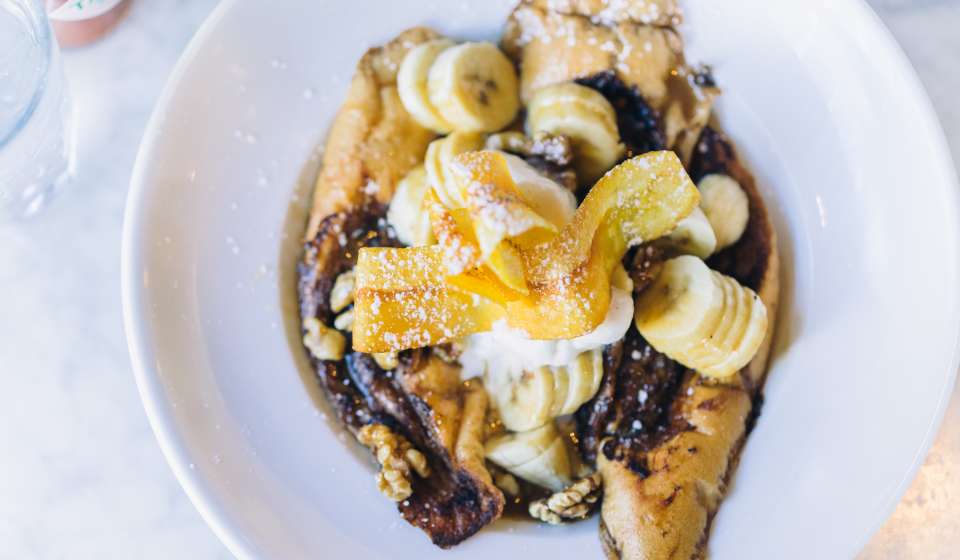 Want to enjoy more traditional Southern dishes? Check out the best foods from the South here.