It's no denying that LA is a hive of creativity, with world-class art museums and galleries across the city. The top art exhibitions in Los Angeles for 2020 include immersive light installations and ancient sculptures. It's a unique mix, just like the city itself.
New exhibitions are opening throughout the year, but we've also thrown in a couple of permanent art exhibitions in the city that you simply have to see.
Best Art Exhibitions In Los Angeles In 2020
The Vera Lutter exhibit at the LA County Museum of Art is about as meta as it gets. The New York-based artist was invited by the museum to create pieces of art examining the campus architecture, galleries, and collection holdings. To do so, they used a room-sized camera obscura. All in all, it's one of the best art exhibits to see in Los Angeles 2020 if you're in love with breathtakingly beautiful photos and ingenuity.
2020 Dates: March 29th to July 19th
This free contemporary art museum has two popular exhibits of Yayoi Kusama's immersive works. You can't visit L.A and not check out The Infinity Mirrored Room – 'The Souls of Millions of Light Years Away'. It's an immersive mirror-lined room that you enter for 45 seconds, with flashing LED lights. The door closes behind you so you can get 'gramming instantly.
Get a ticket by booking online on The Broad's website, or by joining The Broad's onsite standby line in the morning (the earlier, the better!). FYI: the virtual queue for this artwork can be joined only after you are inside the museum.
2020 Dates: Ongoing
Michelangelo was one of the most creative and influential artists in the history of Western art. This exhibition explores the full range of his work as a painter, sculptor, and architect through more than two dozen of his extraordinary drawings. Visitors can see his designs for famous projects such as the Sistine Chapel ceiling, the Medici Chapel tombs, and The Last Judgment.
It's a must-see exhibit in LA this year.
2020 Dates: February 25th – June 7th
MOCA has reinstalled the monumental wall work by Los Angeles–based artist Barbara Kruger – the iconic work was last installed in 1990.  Asking nine questions including "Who is beyond the law?," "Who is bought and sold?," and "Who is free to choose?," the work points to issues of patriotism, civic engagement, and power relations.
In connection with the work, MOCA led a series of voter registration efforts during the 2018 midterms. The museums will continue these efforts in advance of the 2020 general election.
2020 Dates: Now – November 30th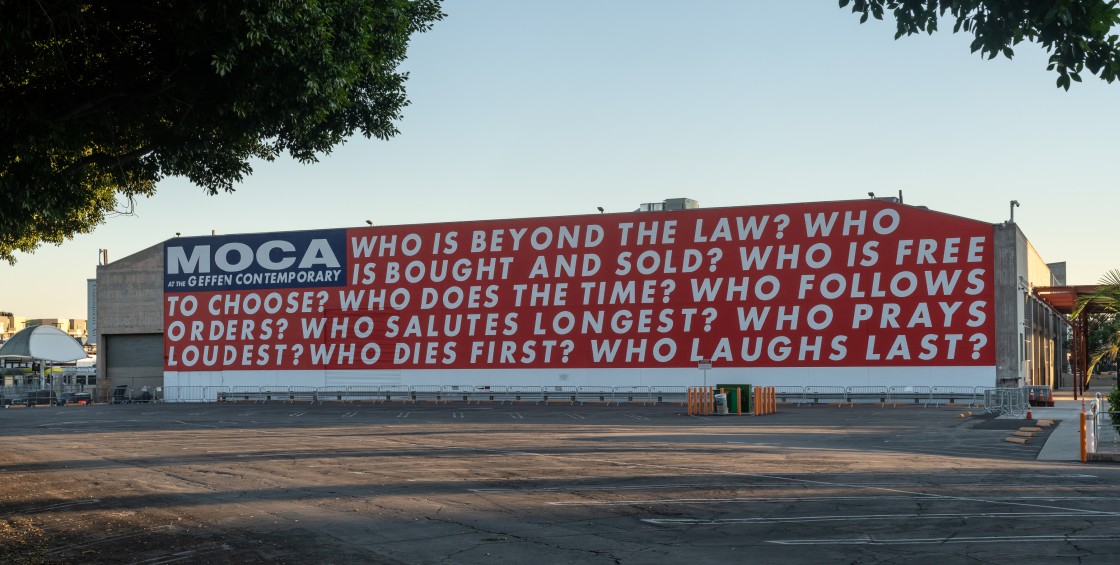 Assyrian kings in the ninth to seventh centuries B.C. decorated their palaces with masterful relief sculptures. They're famed for their artistic quality and sophistication and for their vivid depictions of warfare, rituals, mythology, hunting, and other aspects of Assyrian court life.
The importance of these ancient treasures has only increased with the recent destruction, by ISIS, of many of the reliefs that remained in Iraq. The masterworks are on special loan from the British Museum in London.
2020 Dates: Now – September 5th 2022

Best known for his full-size, fabric-and-steel reconstructions of his former homes in South Korea, Rhode Island, Berlin, London, and New York, Do Ho Suh's psychical creations of memory address issues of home and displacement, shown via his use domestic space.
Using both traditional Korean sewing techniques and 3D mapping technologies, this exhibit replicates the artist's ground-floor residence from a single New York building.
2020 Dates: Now – October 25th
This beautiful exhibit celebrates the spirit of art and culture in Paris during the belle époque through a selection of paintings, drawings, prints and photographs from the Museum's collections. It reveals the vibrant spirit of the age by painting the everyday as something special.
Works from legendary artists such as Henri de Toulouse-Lautrec and Edgar Degas will be on display.
2020 Dates: Now – March 2nd