Each year, National Parks and highways across the US burst into colour, as flowers spring up in vibrant blankets as far as the eye can see. From California to Texas, these are the best places to catch wildflower blooms in the US. The best time of year to see the flowers depends on each region, but it's usually anytime from February to early-August…
Where to See Wildflower Blooms in the US
1. Mount Ranier – Washington
Mount Rainer's pretty wildflowers bloom for a limited amount of time every summer. Avalanche lilies, paintbrush, asters, daisies, cinquefoil, fireweed, purple shooting stars and so many others, blanket the mountain in every colour of the rainbow. This is a beautiful place to spend a day.
2. Death Valley – California
Death Valley is famous for its spectacular, spring wildflower displays. But, superblooms are rare. Only under perfect conditions does the desert fill with a sea of gold, purple, pink or white flowers. Although there are years where blossoms are few, they are never totally absent.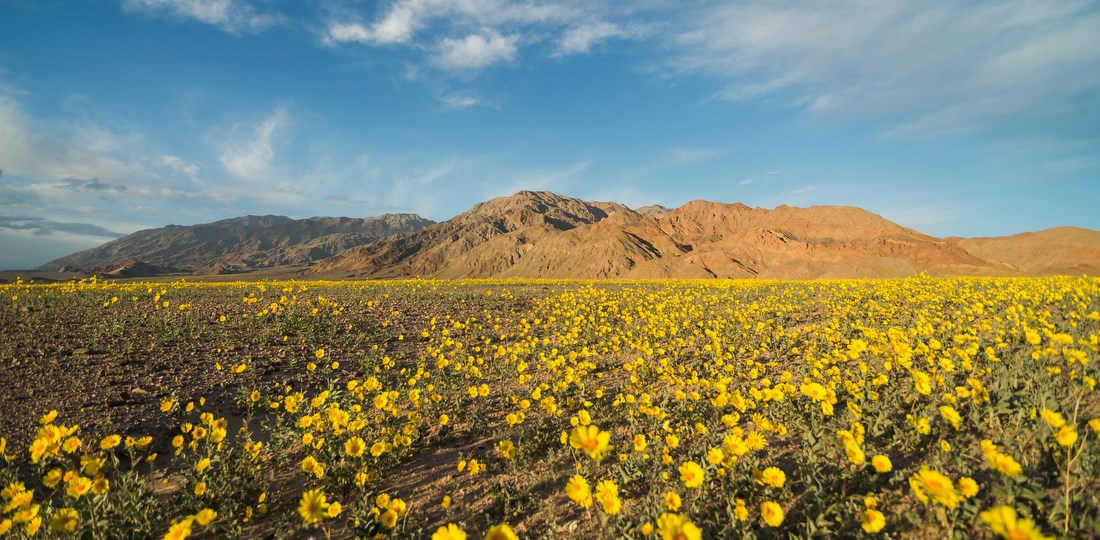 3. Glacier National Park – Montana
One of the best places to see wildflowers in the US is this picturesque National Park. There's more than one thousand miles of hiking trails with views of glaciers, snowcapped peaks and clear mountain streams. There's also one thousand wildflower species here, mostly alpine flowers. Keep an eye out for the purple asters in late summer!
4. The Bluebonnet House – Texas
While you can see wildflowers (bluebonnets in particular!) all across Texas Hill Country, this iconic abandoned house is a must-visit. This old two-story stone home on Highway 281 between Burnet and Marble Falls is surrounded by a field of bluebonnets, Indian paintbrush and old oaks.
Here's more pretty places in the region to see wildflowers.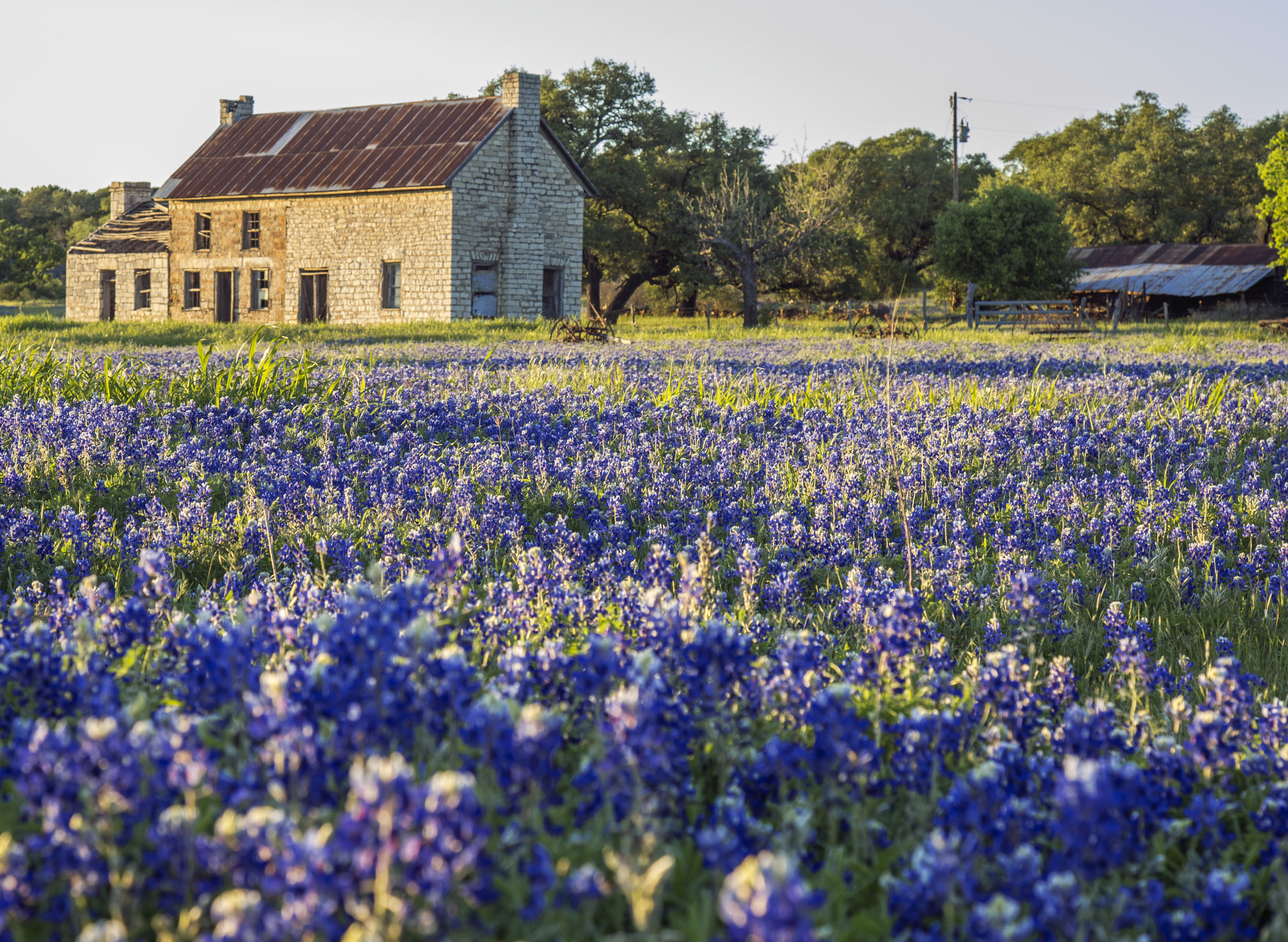 5. Anza-Borrego Desert State Park – California
It might seem impossible for wildflowers to bloom in a desert, but if it's rained in winter then this park's more than 200 flowering plant species put on a brilliant display each spring. Usually,  the bloom occurs between late February and April, with early March being the best bet. Once the bloom starts, it lasts only for a few weeks, so get down here fast.
6. Great Smoky Mountain – Asheville, North Carolina
Also known as the "Wildflower National Park", the Great Smokies are home to 1,500 kinds of flowering plants. Plus, Asheville has one of the longest wildflower seasons in the country, from March all the way through October.
You can feast your eyes on lady slippers, jack-in-the-pulpits, wild ginger, evening primrose, mountain laurel, rhododendron, and hundreds of other species.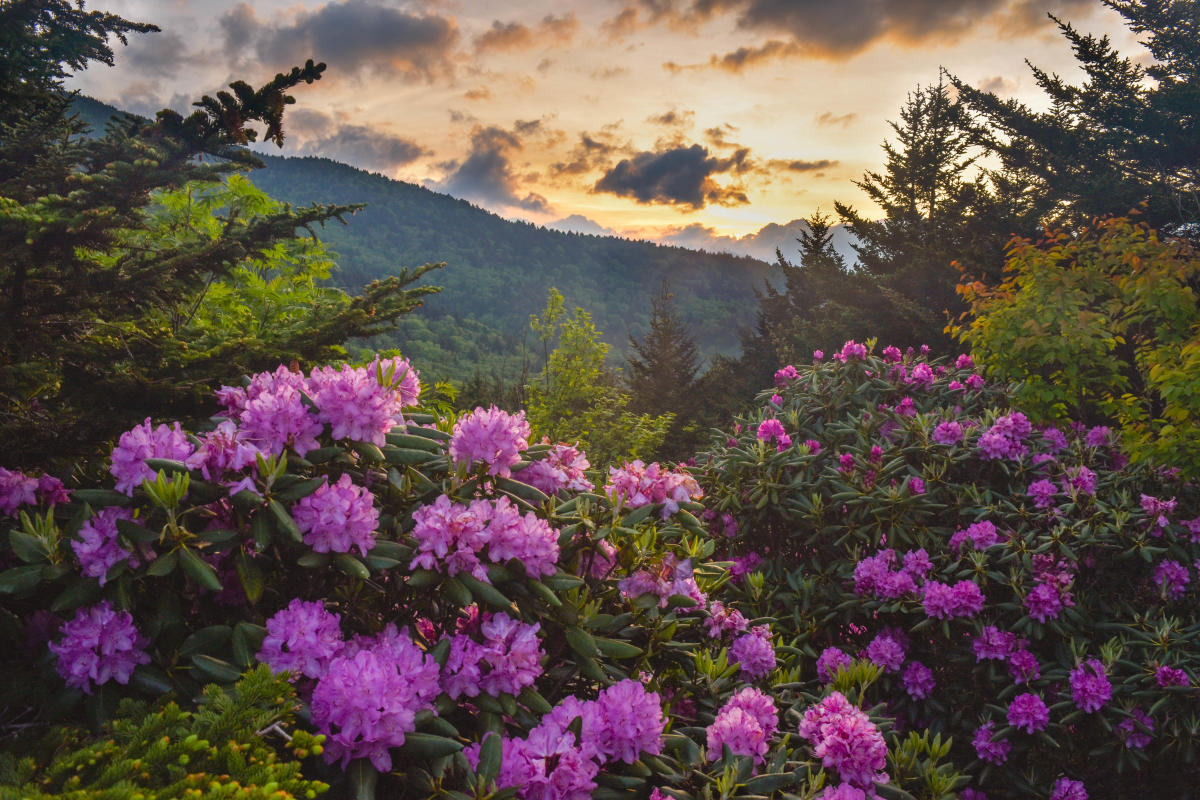 7. Antelope Valley California Poppy Reserve – California
At Antelope Valley California Poppy Reserve, you'll experience a burst of California poppies. Visit in spring for breathtaking displays of California's state flower, and try time your visit for a sunny midmorning, if you can. "Midmorning is usually best because it has warmed up enough for poppies to open, but the afternoon winds haven't kicked in yet," explains the park's state interpreter . "If it's too cold or windy, the poppies close up."