A bustling waterfront burgh of gleaming skyscrapers, iconic towers and eclectic neighbourhoods, Canada's largest city is an exciting place to get to know over two days. 48 hours in Toronto will give you a real taste of the city.
Think: Mooching around hip neighbourhoods, exploring scenic islands and shopping at cool markets during the day; sinking authentic Canadian brewskis and taking in live comedy shows by night.
How To Spend 48 Hours In Toronto
Day One:
Pap the CN Tower Then Get Out Into the Neighbourhoods
Staying at the boutique-style Hotel Victoria on Yonge Steet offers two significant perks. It's close to bus/metro/ferry termini, and it's only a short hop from the city's most iconic landmark, the 553m CN (Canadian National) Tower. To get those all-important views, you have a choice of ascending 346m to the lower viewing platform or coughing up a little extra to put 33 stories between you and the ground.
The extra dough is worth it on a clear day as you can see Niagara Falls if the weather plays ball. One you've papped the tower for all it's worth, spend a few hours checking out the city's more absorbing neighbourhoods.
The vibrant, diverse and infinitely more interesting areas around King Street West, Dundas Street West and College Street West are all worth a nosey.
Hit The Beaches
It's fair to say Toronto isn't famed for its beaches. Fact is though, this pretty waterfront city edging Lake Ontario is has four fine beaches. All are set within a neighbourhood the imaginative city fathers decided to call The Beaches. Connected by a handsome boardwalk, these attractive belts of sand are – in the warmer months, at least – great places to kick back, try some watersports and play volleyball with athletic locals. Hipster-friendly Queen Street East sits at the centre of it all.
Soak up the Distillery District
Still on the waterfront but offering a somewhat different vibe is the historic Distillery District. Once home to Canada's largest distilling company (Gooderham and Worts), this evocative neighbourhood of Victorian buildings and cobblestone streets now bursts at the seams.
There's chic art galleries, lively street performers, trendy eateries and cool bars. The ambience is very inclusive and friendly, making it a top place to round off your first day with a casual evening meal chased by a couple of real-deal Canadian brewskis.
Day Two:
Start the Day With Some Island Hopping
After rising (fairly) early and getting a good brekky inside you, head down to the Jack Layton Ferry Terminal at nearby Queens Quay. Hop on a ferry bound for the Toronto Islands. This string of three lush islands: Centre, Ward's and Algonquin, is a welcome change of pace and scenery.
They're connected by the same ferry so seeing them all isn't a problem. It's worth noting that Centre – home to a popular theme park – can get pretty busy at times.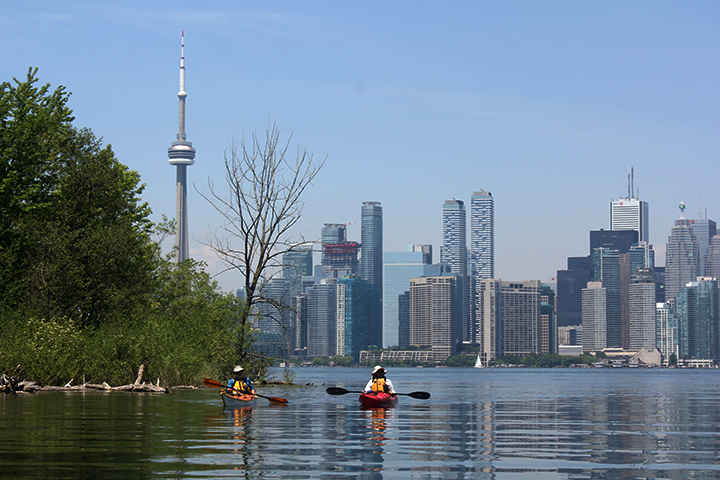 Soak up the Vibe and Shop for Curios at Kensington Market
Just north of Chinatown in the city centre is Kensington Market. This is a funky, multicultural neighbourhood-cum-bohemian shopping area that's become well-known for its alternative vibe and raft of antique, vintage, and arty retail opportunities. Oh, and it's also a seriously good place to grab a bite. Tucking into jerk chicken from legendary Rasta Pasta while people-watching in the park is a must.
Spend the Evening Laughing at Canadians
What do famous Canadian comedians Gilda Radner, Martin Short and Mike Myers all have in common? Well, they all cut their teeth at Toronto's most prestigious comedy club, The Second City. Taking in an after-dinner show at its intimate downtown HQ on Mercer St is always fun. They often do free improv after the last act's finished, so feel free to get up and do your thing…